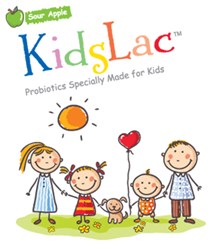 Vegans are exceptionally health-conscious consumers.
Vista, CA (PRWEB) November 20, 2013
Vibrant Nutraceuticals (Vibrant), one of The GHT Companies, announces that its proprietary children's probiotic, KidsLac™, is now a certified vegan product.
The move follows increased demand from retailers and consumers and takes place with immediate effect.
KidsLac contains five different strains of healthy bacteria shown to be particularly beneficial for kids: the DDS-1 strain of Lactobacillus acidophilus, Bibfidobacterium bifidum, Bifidobacterium lactis, Bifidobacterium infantis and Bifidobacterium longum.
KidsLac is supplied in convenient stick packs of a tasty powder which can be consumed directly or mixed with cold food or beverages. Children love it! KidsLac joins other vegan products in the Vibrant line including a unique Vitamin D3 spray for which the company has exclusive North American marketing rights.
Company President and CEO, Jim Rex, said, "The GHT Companies continue to take a progressive attitude in the development of new and exciting products. Most important of all—we listen to our customers. While we have enjoyed considerable interest in our exceptional KidsLac probiotic, parents and retailers have been clamoring for the product to be certified vegan. We are delighted to be able to meet this demand."
"Vegans are exceptionally health-conscious consumers and want the best and most effective products that do not conflict with their ethics. The GHT Companies have a growing reputation for introducing revolutionary products into the American market and we pride ourselves on our superior and responsive customer support."
About Vibrant Nutraceuticals
Vibrant Nutraceuticals ('Vibrant') represents the newest company to join the industry-leading business group, The GHT Companies, beginning in October of 2012. Vibrant acquired the rights to a unique and select array of nutritional products; thus, the company was able to immediately offer a diversified selection of high quality Nutritional Supplements. These products are addressing the needs of varying sectors of the global market, including Vegan and Vegetarian, Children, Immunity, and Basic Daily Health. A primary objective of Vibrant will be focused on delivering these high quality products at affordable prices. For more information please visit http://www.vibrantnutra.com.