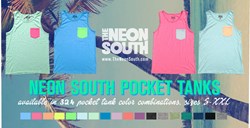 Personalized customer service is a refreshing quality that brings people back time and time again.
Dallas, TX (PRWEB) November 20, 2013
The spring of 2014 is set to be a breakout season for Pocket Tank Tops, a unique twist on an old favorite which combines a 60/40 Cotton-Polyester tank top with a pocket on the left breast, much like a pocket t-shirt. For the last several years, The Neon South has been the preferred provider of custom tank tops in America, and now the online apparel company will be the only website offering custom pocket tank tops on a national scale.
Customers will have 324 pocket tank top color combinations to choose from ranging from traditional garment colors to vibrant neon and nature-inspired colors. With minimums starting at just 36 pieces, custom pocket tank tops are easily attainable for groups and businesses of any size.
A great feature of The Neon South website is free design services to every customer from an experienced and talented design team, unlike many other sites which leaves the design work entirely in the hands of the customer. While The Neon South site does feature a design studio where visitors can create their own design, they also offer their design services free of charge to ensure every customer gets the best T-shirts or Tank Tops possible.
Neon South Pocket Tank Tops are an extremely soft to the touch medium-weight garment available in sizes Small-XXL. Screen-printing and embroidery services are available to customers all across North America, as well as blank garments to wholesale customers. Custom tank tops are great for fraternities, sororities, schools, corporate promotions, bachelorette parties and anyone else who appreciates quality products & design.
Founder and CEO Allen Carey sums up the company's goal, "People want event T-shirts that capture an exciting moment in time. We hope our designs will be something our customers relive for many years to come, and our personalized customer service is a refreshing quality that brings people back time and time again."
With the recent spike in popularity of tank tops and the traditional popularity of pocket t-shirts among college students, pocket tanks are destined to be the next big trend in collegiate fashion. To find out more, visit The Neon South website.