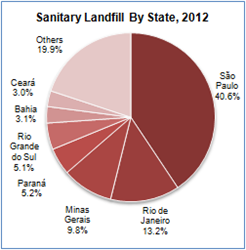 Waste collection problems and dumping are issues throughout Brazil.
Chichester, UK (PRWEB UK) 20 November 2013
According to a new AcuComm report, the Brazilian Waste Management Fact File 2013 waste generation in Brazil has been increasing at 3.3 per cent a year on average since 2008 and reached 62.7 million tonnes in 2012, equal to 1,228 tonnes per day per million population.
The issue is not so much with waste generation but its disposal. Government policy favours landfill, but the challenge of providing advanced disposal facilities must not be underestimated. Waste disposal through modern, 'sanitary' landfill accounted for 58 per cent of the total in 2012, equal to 32.8 million tonnes. Use of modern landfill varies widely: over 70 per cent in the more developed south and south-east, but barely half this level across much of the rest of the country.
With a little over half the waste accounted for through good quality landfill, the question is: What happens to the rest? There is still much use of unregulated, basic landfill throughout the country and some states such as Goias, Distrito Federal and Mato Gross do Sol dispose around 50 per cent of their waste this way.
Reliance on poor quality landfill may not be ideal but there is a further challenge. Only 90.2 per cent of Brazil's waste is actually collected, and the upward trend in uncollected waste can be seen throughout the country, including major urban areas: the amount of waste reported as dumped in Sao Paulo state reached 1.52 million tonnes in 2012 illustrates this point.
If population and economic growth continue at historical rates, then the amount of waste generated will grow by around 3.3 per cent a year to 2018 with the greatest impact being in Sao Paulo, Rio de Janeiro, Minas Gerais and Bahia.
Eric Wigart, Chairman of AcuComm comments, "Brazil has a waste disposal problem already and it is not going to get any less in the immediate future. Many commentators are concerned about Brazil's enthusiasm for using virgin biomass for power generation, yet the government's current policy of developing landfill leaves no room for waste incineration, which would produce power and improve waste disposal throughput".