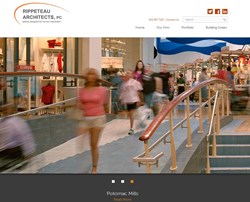 Washington, DC (PRWEB) November 19, 2013
Architecture firm, Rippeteau Architects, just introduced a new company website created by DC web design firm, Blue Water Media. Built in the Drupal content management system, http://www.riparchs.com is aesthetically appealing and user-friendly, helping build awareness about the company's architectural and design services online.
The homepage features a dynamic slideshow that allows users to browse through images of the company's "places for human interaction". Clearly labeled navigation and a simplified site structure guide users to the information they're looking for easily and efficiently. The homepage portfolio tab showcases past office, retail, cultural, and residential projects, which enhancing credibility and the site's modern look and feel emphasizes the firm's contemporary, aesthetically-pleasing, and intricate designs. Additionally, community involvement and sustainability measures are emphasized to promote the organization's social responsibility.
Blue Water Media's implementation of the Drupal content management system allows Rippeteau Architects to easily update the website independently of Blue Water Media. This removes traditional barriers to keeping the site up-to-date and ensures the website will remain a highly relevant and comprehensive resource for potential customers, family foundations and people interested in regulatory policy.
About Rippeteau Architects
Rippeteau Architects is a full service architecture firm based in Washington, D.C. providing architectural services with an emphasis on alterations to notable existing buildings. The firm's work has received favorable public notice since 1985. With a focus on spaces designed for human interaction, Rippeteau brings an appreciation for the dynamics of events in daily activities, seeking to make workplaces interesting and convivial, for better relationships, communications, and teamwork. In September 2011 they were awarded the US Green Building Council's LEED: EB Gold Certification for their 2004, urban, mixed-use building. For more information, please visit: http://www.riparchs.com.
About Blue Water Media
Blue Water Media is an award-winning information technology, web design, and interactive marketing agency based in Washington, D.C., with offices in New York and San Francisco. Leveraging cutting edge web design techniques, flexible open source software applications, emerging technologies, and integrated marketing campaigns, Blue Water Media offers a turnkey approach to attaining online success for government agencies, non-profits, and businesses of all sizes. For more information, please visit http://www.bluewatermedia.com.