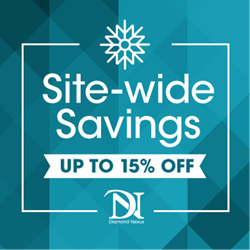 This is the best time to buy because it's the only time you'll see savings site wide
(PRWEB) November 18, 2013
The Diamond Nexus Site-Wide Sale that has been featured for nearly 3 weeks will soon come to a close. The sale has proven to be the most popular of the year.
"Sales like this happen but once a year, with markdowns on everything from pendants and earrings to our hand-crafted (and affordable I might add) engagement rings," said Kyle Blades, Director of Marketing. "This is the best time to buy because it's the only time you'll see savings site wide."
"Whether you're buying for that special lady friend, your mom, or the girl next door — I'd recommend taking advantage of the sale sooner than later!" screamed Steven Pease, Digital Marketing Manager.
The Diamond Nexus Site-Wide Sale is valid on items online including: gifts, engagement rings, fine jewelry and fashion. The sale does not include Dreambook items, clearance, or custom jewelry.
Diamond Nexus was founded in 2004 with the purpose of bringing to the public the powerful benefits of the lab-created diamond stimulant revolution. They have over 250,000 customers worldwide that have awarded them an "A+" rating with the BBB, and are the ninth largest online jewelry retailer in America according to the 2011 IR500 list. For three years in a row brides from The Knot have selected them as their Best of Jeweler. Diamond Nexus currently has a flagship location at Woodfield Mall in suburban Chicago. In 2009 the company was named the official jeweler and crown maker of the Miss Universe Organization as part of NBC/Universal's "Green is Universal" environmental initiative.