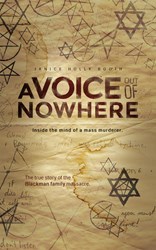 Suicide is the leading cause of death among people diagnosed with schizophrenia.
Charlotte, NC (PRWEB) November 21, 2013
Author Janice Holly Booth's new #1 best-seller, "A Voice out of Nowhere: Inside the mind of a mass murderer," tells the story of a 22-year-old man with no history of aggression who suddenly murdered his family during one night of psychotically fueled violence. It's Booth's first true-crime novel, a genre she had no interest in pursuing until the tragic loss of a friend to suicide. "My friend was diagnosed with paranoid schizophrenia and she would not take her medications," says Booth. "She wound up in the mental institution known as Riverview where we thought she'd be safe, but she killed herself while under suicide watch." Two years later, another friend, also diagnosed with schizophrenia, died. "In both situations," Booth says, "their deaths were preventable. The system that was supposed to be keeping them safe had failed miserably." Booth decided to learn everything she could about schizophrenia, and when the mass murder case of Bruce Blackman came before the court where Booth worked, "This was a story I knew I had to tell some day." Blackman was ultimately diagnosed as suffering from paranoid schizophrenia.
Although "A Voice out of Nowhere" focuses on the back-story leading up to, the commission of, and the aftermath of the murders, Booth includes an unflinching look at schizophrenia statistics including suicide. "When you have a population whose rate of suicide is fifty times higher than that of the general population, that is a medical and moral emergency," she says.
"A Voice out of Nowhere" takes the reader inside the mind of the killer and follows his trajectory from happy-go-lucky young man to mass murderer, a path that spanned a mere 46 days. "During that time, Bruce was so tortured by voices that he could neither sleep nor eat. He contemplated suicide on more than one occasion. The reader can see why that would seem a viable option for someone whose mind was causing them to suffer so greatly."
Booth lost a close family member to suicide, so she knows the unique pain the loss inflicts. "When an individual believes that death is preferable to life, then that can only mean they've experienced a profound loss of hope." Creating a nimble and proactive mental health care system that gives individuals the care they need and deserve can help restore hope, especially for a population that is at high risk for suicide, says Booth. "If we really believe we are a humane society, then how can we allow this travesty to continue?"
BIO: Janice Holly Booth was born and raised in British Columbia. Her first book, Only Pack What You Can Carry, was published by National Geographic in 2011. She has a master's degree in Leadership and was a non-profit CEO for more than 20 years before becoming a full-time writer and speaker. She currently lives near Charlotte, North Carolina.