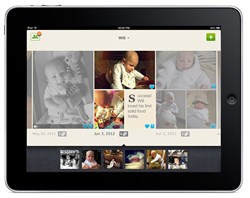 London, UK (PRWEB) November 20, 2013
Lifecake, an app that helps busy parents quickly organize and privately share photos and videos among family and friends, announced it is launching today, having raised $1.1 million in a seed funding round led by Balderton Capital, one of Europe's leading venture capital firms and backers of successes such as MySQL, Betfair, Lovefilm, Yoox and Wonga.
Nicholas Babaian, former head of Skype's mobile product team, and Matthew Sheppard, who built mobile platforms for rich content delivery and payments at Qualcomm & Yahoo!, are two of the four tech veterans who co-founded Lifecake in July 2012. They now serve as CEO and CTO respectively.
Since its creation, Lifecake has attracted a strong and passionate inaugural user base of parents around the world, a third of whom are in the United States.
"Moms and dads are often reluctant to share photos and videos on Facebook and other social platforms, due to privacy and trust issues," said Babaian. "Now, they have a secure and intimate place to share only with those who truly care."
Offering a beautifully designed and intelligent timeline, which automatically sorts photos and highlights the most engaging moments, Lifecake creates a personalized ad-free space for the family to enjoy. It alerts users via a mobile app or email when new photos have been added, and users can view and leave comments via smartphone, (iPhone or Android), iPad or computer at lifecake.com.
"New parents find themselves suddenly accumulating lots of photos across devices but especially mobiles," said Babaian. "Many don't have the time to organize and share those memories regularly, so they to tend to languish unseen and disorganized. Lifecake makes it fun and fast to keep loved ones up to date on any device."
"At Balderton, we believe that easy private-sharing of your family's pictures and videos is still an un-solved consumer need and a potential huge business opportunity," added Roberto Bonanzinga, partner at Balderton Capital. "Since the very first meeting I was totally inspired by Nick's vision and the determination of the whole Lifecake's team to build a beautiful product."
The Lifecake application is available in English globally on Google Play and in the Apple App Store. Lifecake will give users space for 1000 photographs and an hour's high quality video for free and following that will invite users to become VIP's for just $4.99 (£2.99) per month.
About Lifecake (@lifecake / http://www.lifecake.com)
Lifecake was born when one of the founders travelled 6,000 miles to be at the birth of his nephew. The experience was amazing, but upon returning home, the distance felt enormous. He wanted to feel more connected and soon found others who felt the same.
The start-up team of parents, uncles and godparents worked together previously at some of the biggest names on the Internet – including Skype, Qualcomm, Yahoo! and Microsoft - and are based in London, England. Lifecake is backed by Balderton Capital, one of Europe's leading venture capital firms and backers of successes such as MySQL, Betfair, Lovefilm, Yoox and Wonga.
Visit Lifecake on Facebook: http://www.facebook.com/lifecake
For a Lifecake demo video, and other company information, visit http://www.lifecake.com.
About Balderton Capital (@Balderton / http://www.balderton.com)
Balderton Capital is one of the largest venture capital firms in Europe, committed to finding and helping talented entrepreneurs build great companies. Based in London, the firm manages more than $1.9 billion. Since 2000, Balderton has invested in over 100 companies, principally across Europe. Notable realised investments include Betfair (the online betting exchange, 2010 IPO), LOVEFiLM (the home entertainment subscription service, sold to Amazon in 2011), MySQL (the open-source database software, sold to Sun Microsystems in 2008), YOOX Group (the online retailer of leading fashion brands, IPO in 2009). The current portfolio includes innovative companies such as Globoforce, Kobalt, Natural Motion, Openet Scytl, Talend, The Hut Group, Wonga, Wooga and WorldStores.
# # #