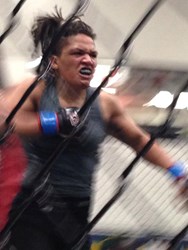 I'm happy to bring this belt home to Team Lloyd Irvin. Big thanks to Master Lloyd and all my coaches and teammates for helping me prepare.
Manassas, VA (PRWEB) November 19, 2013
Sijara Eubanks of Team Lloyd Irvin has been training Brazilian Jiu Jitsu and MMA for five years under head coach Lloyd Irvin. Eubanks is a Lloyd Irvin brown belt in Brazilian Jiu Jitsu and has fought twice in the last 30 days. Her first MMA amateur fight took place on October 12, 2013 in Savannah, GA where she submitted Alexa Conners in the third round.
Eubanks would win be submission again, this time in the 4th round of her championship fight against Ashley Smallwood (Total Victory MMA). Eubanks was the favorite to win the fight, having superior grappling skills, but Smallwood was no sleeper and put up a tough fight. Smallwood specializing in Muay Thai and Boxing at her hometown gym Total Victory in Richmond, VA. The fight was scheduled for 5 3-minute rounds, with elbows allowed.
The fight started off at a high pace, with Smallwood landing some crisp straight punches early in the first round, but Eubanks remained composed, landed a few shots herself, and rushed Smallwood to the fence, where Eubanks dragged her to the mat. The first round ended with Eubanks on top dishing some heavy group and pound.
The second round was much like the first, a relatively even exchange on the feet, with Eubanks pressing Smallwood to the cage. In this round, Smallwood kept the fight on the fight for much longer, but couldn't get her back off the cage. Smallwood landed an elbow to Eubanks' head, but the strike resulted in a take down from Eubanks. The round ended with Eubanks in the closed guard of Smallwood, landing punches and elbows.
In the third round, Eubanks and Smallwood both danced a bit before in engaging. Eubanks started to open up with some left kicks that landed to the body of Smallwood. Smallwood seemed more tentative with her striking this round and Eubanks capitalized, by throwing kicks and shooting for the takedown. Again, Eubanks ends the round in top, dominate position.
Heading into the championship rounds, Smallwood needed a finish, while Eubanks just needed to maintain her lead, but the ladies came to fight. Smallwood came out throwing clean straight punches, Eubanks engaged only for a moment to shoot for the takedown. After a brief scramble, Eubanks took Smallwood to the mat and immediate began to ground and pound. When Smallwood turned away from a powerful shot, Eubanks took her back, landed some more punches, and sunk in a rear naked choke.
"It was very exciting! I'm happy to bring this belt home to Team Lloyd Irvin. Big thanks to Master Lloyd and all my coaches and teammates for helping me prepare," said Eubanks after the fight.
Hopefully, Eubanks will get to defend her title soon, as LOC Fights Promotions searches for an opponent for her.
For more information on Team Lloyd Irvin please call 301-449-KICK, lines are open 24/7, or visit http://www.lloydirvinlive.com.