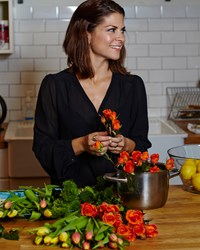 "Floral design can seem intimidating, but anyone can create a fantastic flower arrangement even if they're a complete novice, have some experience, or are a practiced arranger looking for a new challenge."
Los Angeles, CA (PRWEB) November 19, 2013
When it comes to the floral design for Hollywood's biggest events, there's only one person to call: Carly Cylinder. Carly Cylinder has built a reputation for her lush, gorgeous pieces that are perfect for star-studded parties, galas, and celebrations. She has mastered her craft while working with esteemed clients such as Twentieth Century Fox, Perry Ellis and Swarovski, as well as well-known celebrities like Nicki Minaj and the Kardashians.
Carly Cylinder's upcoming book, The Flower Chef (Spring 2015, Grand Central Publishing/ Hachette Book Group), is a progressive guide to do-it-yourself floral arrangement. Ms. Cylinder, who has taught classes in floral design for years, takes her seasoned teaching skills to the page so that even the most inexperienced reader can master the basics of design and care. Readers who are proficient or even experienced in floral design will be delighted to find new challenges to help them create elegant, unique, and show-stopping floral pieces. "Floral design can seem intimidating, but anyone can create a fantastic flower arrangement even if they're a complete novice, have some experience, or are a practiced arranger looking for a new challenge."
Carly Cylinder has always used flowers to connect with others: "Working with flowers is the perfect balance of creativity and working with the community," she says. Her out-of-the box designs have always delighted fans and clients; now, she seeks to share her skills with others. Whether someone is hoping to design the flowers for her own wedding, or simply looking to bring added joy to their home with a weekly floral arrangement, an easy-to-use resource is now at hand.
Carly Cylinder
Carly Cylinder is the owner and visionary behind Flour LA, Inc. a bicoastal florist that provides nontraditional designs for weddings and events using eco-friendly flowers. She serves as an expert for Celebrations.com, a writer for The Huffington Post and GalTime, and a guest blogger on SheKnows.com. Ms. Cylinder has appeared on television numerous times and is represented by Paradigm Agency. She is the creator and producer Dug Up with Carly Cylinder, a show that explores how different cultures use flowers in their everyday lives, as well as special celebrations.
Her clients have included:
•Mattel •DirecTV • Bollare •LaForce & Stevens •The Wall Group •Time Warner Cable • Coldwell Banker Beverly Hills • Conde Nast • Facebook • Dr. Jessica Wu • UCLA • Marriott •CAA • 24Seven • Veev • Spectrum • Custom Hotel • Kardashians •Kaley Cucuo • Jay Leno • Charm City Cakes West •Nicki Minaj • Disney • Twentieth Century Fox • Bebe • Swarovski •Whitney Port •Brooke Burke • Disney • Perry Ellis •Basketball Wives/VH1• Timberland• John Varvatos