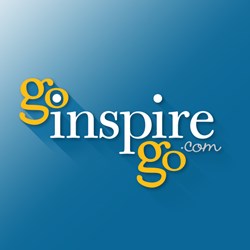 Imagine if that local hero in your community finally gets the spotlight on them that they need and deserve. We're asking everyone to join us on this movement to inspire.
San Francisco, CA (PRWEB) November 20, 2013
Inspirational story-teller Toan Lam, the "Hero's Hero" behind GoInspireGo.com announced today the launch of "50/50," his non-profit's new initiative to champion 50 heroes behind social causes in 50 states. GoInspireGo.com will feature the heroes on their web site and promote their inspiring stories on social media to advance their causes. Financial support for 50/50 comes from Coca-Cola, Wize Commerce, and individual donations crowd-sourced on indiegogo.com.
50/50 kicks off on November 20, 2013, spotlighting 16-year-old Arizona-based hero Matthew Kaplan and his anti-bullying initiative, The Be O.N.E. (Open to New Experience) Project. Kaplan created the program after his younger brother was cyber-bullied at school, the Arizona School for the Arts. The innovative and interactive peer-to-peer program was so successful; it is now a mandatory part of the school's curriculum.
As 50/50's "Thanksgiving Hero," Kaplan will receive a $1,000 grant through Go Inspire Go's partnership with The Pollination Project, a seed grant provider to social causes. Kaplan says he'll use the grant to purchase equipment he needs to expand his program to more schools.
Lam says, "Matthew turned a painful experience into an opportunity to create a unique program to combat bullying – among the most corrosive problems affecting today's youth. His inspirational story made him the perfect choice for our first 50/50 hero."
Upcoming 50/50 heroes include a 12-year-old animal rights activist in Florida, and the founder of a New York-based organization spreading inspirational messages through hip hop.
The stories will be told through the eyes of Lam, a former television news reporter who gave up his career in 2009 to start GoInspireGo.com.
Lam explains, "I had this idea, to use my skills to tell inspiring stories about local heroes, and leverage social media to spark civic involvement. I thought, 'If I can get just get 5 people to help each other, I'd be so excited.'"
His idea caught on much faster than he'd anticipated when his first video, featuring Jorge Muñoz's "Angel in Queens" mobile food charity, attracted over 200,000 views, bringing thousands of dollars in cash, new appliances, and volunteer offers.
Response to another story, featuring a San Francisco kindergartner's can collection drive to feed homeless people, increased collections from $3,736 to $20,202 and brought in 15 tons of donated chicken.
Today, GoInspireGo.com operates with a staff of over 90 volunteers, and their inspirational stories have impacted communities across the globe.
Says Lam, "There are inspiring stories and inspiring people everywhere. Imagine if that local hero in your community finally gets the spotlight on them that they need and deserve. We're asking everyone to join us on this movement to inspire."
For more information, visit http://www.goinspirego.com/50-50
###
ABOUT GO INSPIRE GO - Go Inspire Go (GIG) is a [501(c)(3) non-profit] social enterprise video-based website that inspires people to "Discover and Use Your Power to Help Others." Led by Toan Lam and operated by a team of 90+ volunteers, Go Inspire Go creates inspirational videos featuring regular people who use their talents and resources to better their community. Stories are distributed via social media to encourage sharing and inspire people to become civically engaged. At the end of every GIG video, there's a call to action with information on how to make a difference.
Since its inception in 2009, Go Inspire Go has helped advance hundreds of social causes by rallying volunteers and bringing cash and in-kind donations. Social good stories featured on GIG have reached millions of viewers and have been shared by organizations such as Good Morning America, The Huffington Post, Deepak and Mallika Chopra's Intent.com, Yahoo, AOL, Public Radio, and local TV stations across America.
ABOUT TOAN LAM -Toan Lam is a multimedia consultant, university professor, and the founder of GoInspireGo.com, a multimedia platform that "uses social networking for social change." Toan and his team of 80+ volunteers scour the globe for "street corner"-style heroes to produce authentic and touching stories, while leveraging social media to raise visibility and support for those featured. Toan Lam is also a featured blogger for The Huffington Post and Deepak and Mallika Chopra's Intent.com.