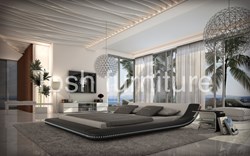 Modern Furniture Store Los Angeles
Los Angeles, CA (PRWEB) November 27, 2013
One reason for its continued success (DA Stores was one of few American home furnishings companies that managed the recession and in fact, continued it growth efforts) is its commitment to having at least 95% of all items on its website in stock and ready to ship. With an eclectic array of stunning modern furniture, much of which comes from Italy, consumers appreciate the versatility the company offers. Even as some companies stick to one theme or design element, DA Stores understands that not all consumers are looking for an ultra-chic leather sectional sofa, "Many of our consumers began downsizing during the recession and for most, that meant creating smaller living spaces. You might be surprised at how many are opting for fabulous accent chairs versus larger sectional sofas or complete living furnishings," said a spokesperson for the company.
As the team prepares for the new year, DA Stores has kicked off its Black Friday sale days ahead of the official start of the 2013 holiday season. With free shipping, big discounts, rewards points and easy financing, many are seeing for the first time the many opportunities for savings.
So what's ahead for the company in the new year? We went straight to the source, "We anticipate new partnerships with even more of the most widely recognized and respected home furniture designers and manufacturers in the world. We will also remain competitive in our pricing and committed to customer service," said the company owner.
For more information on DA Stores, its Black Friday sale and charitable giving, visit the website or our Modern Furniture Store in Los Angeles.