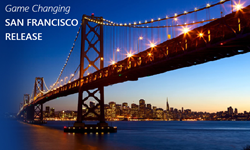 Our AMP platform is so revolutionary, that you will have to see it to believe it. No one else is doing this.
New York, NY (PRWEB) November 20, 2013
AMP Technologies unveils its latest game changing release – San Francisco. In this release, real-estate users will experience a cleaner UI with better typography, much tighter integration with Yahoo! and Google, and get access to data much faster.
This game changing release allows real estate users right from Property Managers and Fund Managers up to real-estate investors and C-level executives, to analyze their portfolio's performance and dramatically improve asset revenues.
When asked about the real estate asset management software, "Our AMP platform is so revolutionary, that you will have to see it to believe it. No one else is doing this," said Rohneel Naicker, Co-founder and CEO of AMP Technologies.
Some of key features of this release include:
Faster Access to Data – Users can get access to data from financial operating statement trends to lease analytics from pipeline to stacking plans
Simple Yet Powerful Design – Simplicity requires great sophistication. We have redefined the experience of using AMP with a whole new user interface
Gain Insight with Tighter Integration – With Yahoo! Financial integration, you can get detailed information on your tenant financials
Google Map Integration – Google Maps allows you to view your property and how it fares when compared to your competition
Trend and Analysis – Do dynamic comparison of your property data and your financial data such as Budgets, Operating Statement, etc
Most companies traditionally review performance on static excel or PDF documents. AMP redefines asset management by providing powerful technology to drive revenues. Lease management, pipeline tracking, tenant management and more are available at a click of a button on any browser and on any device.
To sign up for a free trial of the AMP Platform, click here.
About AMP Technologies
Headquartered in Mountain View, California, AMP Technologies provides a suite of products and services for commercial real estate asset management. The AMP Technologies Platform is a powerful, yet highly intuitive, platform to monitor and manage individual properties and large portfolios. Its products are built on best-of-breed cloud technology and are designed for the modern enterprise to provide sophisticated business intelligence, collaboration and management tools. With a comprehensive, yet highly intuitive, platform for monitoring and managing individual properties to entire portfolios, AMP provides the key tools needed for every level of management for effective analysis and decision making.