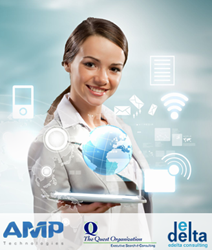 New York (PRWEB) December 17, 2013
December 17, 2013 — AMP Technologies, The Quest Organization and eDelta Consulting announced today a rare opportunity for Real Estate Innovators to meet these strategic partners at the New York Real Estate Conference. This meeting would facilitate real estate innovators, to combine analytical tools to accelerate intelligent asset management on a global scale, with the help of top-notch talent discovery and top-tier risk management.
AMP's Co-Founder and CEO, Neel Naicker sought to take real estate asset management, acquisition and disposition to the next level but became frustrated by complex, expensive systems that didn't work together. He decided to make a best of breed for real estate asset management, collaboration, transactions and services.
AMP's cutting edge technology provides Real Estate leaders around the world unparalleled access to real time decision-making data giving them an edge - imperative in today's economy. "AMP provides a unified platform, accessible via any web enabled device... anywhere in the world." said Neel Naicker.
The Quest Organization Executive Search & Consulting industry practices include Real Estate-Owners, Managers and Developers for commercial, shopping centers, residential, real estate finance companies, REITS and opportunity funds. Identifying, recruiting and introducing the most sought after talent to notable clients in the global marketplace.
Speaking about the event Michael Rosenblatt, President of The Quest Organization had this to say "We are entering 2014 with access to the Top Talent paired with our unmatched advisory services - these resources, along with our strong partnerships with AMP and eDelta will set our clients up for their best year yet."
eDelta Partner Jon Bosco has assisted Fortune 500 companies in developing and executing plans to mitigate technology and business risks. He is a frequent speaker on governance, and risk and compliance. Jon has expert knowledge of technology challenges facing asset management and fund companies and their related regulatory and compliance impact.
Job Bosco said "The Amp's workflow, document management and data analytics capability allows assets managers / fund companies to automate extensive manual controls, replace spreadsheet with systems that are auditable, centralize documentation, and most importantly, identify risks at the asset, portfolio, and fund in real-time. Helping Companies manage their risk is our business and we believe the Amp is a great platform for asset manager / fund companies to achieve this most critical objective."
This vital partnership is intended for C-level professionals needing increased capacity in Real Estate Asset Management, Human Capital, Governance, Risk Compliance and Collaboration.
About AMP Technologies:
Headquartered in Mountain View, California, AMP Technologies provides a suite of products and services for commercial real estate asset management. The AMP Technologies Platform is a powerful, yet highly intuitive, platform to monitor and manage individual properties and large portfolios. Its products are built on best-of-breed cloud technology and are designed for the modern enterprise to provide sophisticated business intelligence, collaboration and management tools. With a comprehensive, yet highly intuitive, platform for monitoring and managing individual properties to entire portfolios, AMP provides the key tools needed for every level of management for effective analysis and decision making.