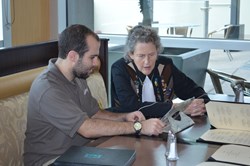 I wanted my son to have the same opportunities as everyone else.
Sherman Oaks, California (PRWEB) November 19, 2013
Exceptional Minds student Noah Schneider broke for lunch at Friday's Autism & Asperger's Syndrome Conference at Embassy Suites in Glendale and found himself seated next to Dr. Temple Grandin, the world-famous speaker with autism who was the keynote at the conference.
Grandin's insights into the visually-gifted autism brain has inspired a generation of young men and women with autism like Noah, who is high-functioning and has a consuming interest in art. "I couldn't believe she was sitting next to me and looking at my work," said Noah, who hopes to turn his advantage as a visual thinker into a career in animation, post-production or other visual arts field.
Noah was diagnosed with autism when he was three years old and showed an early interest in building life-size sculptures. Throughout his school years, Noah's teachers quickly found they could engage him using art. By senior year of high school, he had won numerous animation awards, including prizes at the International Student Film Festival Hollywood, Reflections Competition, and the Museum of the Holocaust. He graduated high school in June and became a full-time student at Exceptional Minds digital arts academy for preparing young people with autism for careers, which was co-founded by his mother Yudi Bennett to help Noah and others like him transition from high school into adulthood. "I wanted my son to have the same opportunities as everyone else," said Yudi Bennett, now director of operations for the vocational school located in Sherman Oaks, California.
Exceptional Minds opened in 2011 with just a handful of students and doubled its size and student population within two years to accommodate a growing number of visually-gifted young people with autism who want what everyone else wants: meaningful careers doing what they do best.
Nineteen-year-old Noah was one of three young artists at Friday's conference to sit in on a memorable lunch session with Grandin, who was diagnosed with autism in the 1950s and, through persistence, developed her talents into a successful career as a livestock-handling equipment designer, one of very few in the world. Her detailed facility designs are used in handling half the cattle in the United States, and she has consulted for firms such as Burger King and McDonald's.
For Friday's conference, Grandin, who wore her customary cowboy shirt and kerchief, spoke of the challenges she faced and how individuals with autism can develop their visual talents into meaningful careers. During lunch with the three young adults with autism she was at times brutally honest and often funny as she gave the young artists advice, suggesting they treat art as a business and to let their work speak for itself.
Noah walked away from Friday's memorable lunch with two goals. "I need a stronger portfolio and need to learn how to run a business," he said.
About Exceptional Minds (http://www.exceptionalmindsstudio.org): Exceptional Minds is a non-profit vocational center and working production studio for young adults on the autism spectrum. It was chartered in 2011 to provide the training necessary for creatively-gifted individuals with Autism Spectrum Disorders (ASD) who may not otherwise be able to make the transition from high school to careers. Exceptional Minds offers technical proficiency and work readiness training that prepares students for careers in graphic arts, animation, web design, visual effects and rotoscoping. Located in Sherman Oaks, California, Exceptional Minds is both an instructional learning facility and a working studio with hands-on student involvement in production projects, many for the film industry.
# # #