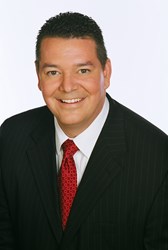 Tempe, AZ (PRWEB) November 19, 2013
AV Concepts, a leader in the corporate meetings, convention, and experiential events industries, announces Gerry Small as Chief Operating Officer (COO) effective December 2, 2013. With more than 25 years of experience in the large-scale corporate event and association meetings markets, Small further strengthens AV Concepts' executive leadership team at a time when the company is experiencing accelerated growth. In his role as COO, Small will provide the leadership, management and vision to further elevate AV Concepts' Operations, Technical and Project Management Teams.
"We've admired Gerry's leadership and respected his work to advance the industry for many years," said Nick Smith, President and co-founder of AV Concepts. "We're positive that his background, expertise and enthusiasm will have an incredibly positive impact on our team and our clients."
Prior to joining AV Concepts, Small spent more than 20 years as an executive with some of the industry's largest and most respected audio visual companies. Most recently Small was Vice President of Account Management and Business Development, where he and his team excelled at driving client satisfaction to a new standard. Small brings to AV Concepts an impressive history of working with his teams to improve customer service and deliver greater value to clients, while also fostering a positive and collaborative company culture.
"AV Concepts continues to rock the experiential event space with new technology, innovative techniques and a stellar staff," said Small. "I'm excited to work with this group of driven individuals and apply my expertise to continue the company's growth."
AV Concepts has a 25-year track record of delivering superior value and client satisfaction through consultative design in audiovisual, lighting, projection, creative and digital display solutions, among many more services.
For more information about AV Concepts' total creative solutions, visit http://www.avconcepts.com.
About AV Concepts
AV Concepts converges creativity and technology by providing unique audio, video, lighting and immersive technical solutions. The recognized industry leader in the intersection of creative services and technical staging implementation, AV Concepts has been driving innovation to a new level for brands, professional meetings and corporate and entertainment events for more than 25 years. The company's proprietary Liquid Scenic(sm) technology creates dynamic visual experiences with nearly limitless content creation possibilities to engage and energize audiences. With more than 100 team members supporting 200+ annual events across North America, AV Concepts delivers exceptional quality, ideas and client satisfaction. For more information, visit http://www.avconcepts.com and follow the company on Twitter and Facebook.
###