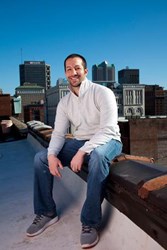 St. Louis, Missouri (PRWEB) November 19, 2013
Less than two months ago, LockerDome co-founder and CEO Gabe Lozano announced the formation of GlobalHack – a nonprofit with the goal of enhancing the entrepreneurial environment in St. Louis. Now, the St. Louis entrepreneur will serve as a judge and advisor to another nonprofit with a similar aim: Arch Grants.
The Arch Grants Global Business Plan Competition will culminate in late-April with its Finalist Weekend: Companies will give their final pitch in hopes of being selected to receive a $50,000 grant. Gabe Lozano will be featured on a finalist judging panel, offering a keen understanding of what does and does not work in the tech space.
Lozano will also join the advisory board of Arch Grants.
"We are pleased to have an innovator like Gabe supporting the Arch Grants mission in these capacities," Arch Grants President Jerry Schlichter said. "Gabe is a true entrepreneur and will be an asset to Arch Grants as we work to fulfill our goal of starting and building great companies in St. Louis."
But that's not all.
Lozano is also excited about a tie-in between the Arch Grants competition and GlobalHack's quarterly hackathon, which will pit teams of programmers against one another with a goal of solving a particular problem. The winning team of one of the quarterly hackathons will earn the right to compete for a $50,000 grant at the Arch Grants Finalist Weekend. Because Lozano started the hackathon, he will not participate in the judging of the GlobalHack winner for Arch Grants.
"Arch Grants has done an incredible job of attracting high-quality startups with a product and early traction and helping them become sustainable companies," said Lozano. "Supporting their mission, both personally and through a GlobalHack partnership, is a no brainer."
About Arch Grants
Arch Grants is a not-for-profit organization whose mission is starting and building entrepreneurial companies in St. Louis. In its first two years, Arch Grants has awarded $1,950,000 to 35 startups, and has received international attention for its competition. These grants are unique because the organization does not take equity from the companies, allowing owners to retain 100% ownership; they simply require that the startups be in, or start their business in St. Louis.