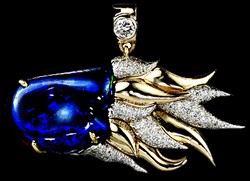 Through every step of jewelry selection, I share my knowledge with every customer.Benjamin Mark
New York, NY (PRWEB) November 20, 2013
Tyler-Adam Corp, known for its decades-long service in New York City's famous Diamond District, has announced that, effective November 19, 2013, anyone, anywhere in the world, can now shop at its diamond studio in the NYC Diamond District, from the comfort of their own home or office.
Tyler-Adam was founded in 1994 by master diamond setter, Benjamin Mark, who was following in the footsteps of his father and his uncle, both diamond experts in their own right.
From the Australian Black Opal custom fit into an original Benjamin Mark Comet design with a diamond pavé tail and diamond bail, to the simply gorgeous Roman Alphabet Initials, and everything in between, the jewelry shown on the Tyler-Adam website carries the Benjamin Mark "stamp of approval."
Delivery in time for Christmas 2013.
Phillip Gavriel and Ilano Designs grace the pages of the Tyler-Adam web site this holiday season.
Like Benjamin Mark, Phillip Gavriel was born into the jewelry world. His skills and vision were intensified when he studied great Renaissance masters in Florence. This led him to create jewelry inspired by his travels. Today, Philip Gavriel jewelry is both rich in its heritage, and exquisitely wearable by everyone. Each piece tells a story and comes from the heart. On http://www.tyler-adam.com, Benjamin Mark offers some of his personal Philip Gavriel favorites.
Also available for this holiday season are unique rings from the Ilano Collection.
After attending art school in Israel, Ilano moved to New York City in 1977 and worked in a "diamond house." In 1983, Ilano opened his own jewelry company, which initially offered stud earrings before expanding to rings, bracelets and other fashion jewelry from many designers.
The Ilano Collection burst onto the scene in 2011 when the creative genius of Ilano could no longer be satisfied with anything less than complete design freedom. Offered now on the new Tyler-Adam website, and available for immediate delivery, are some of the most interesting Ilano rings, hand-picked by Benjamin Mark.
The Benjamin Mark jewelry advantage.
Beyond honesty and integrity, expert knowledge is essential. Through every step of the jewelry selection, Benjamin shares his knowledge with every customer. For example, for many years, jewelry sold in the USA that was stamped 14k, was allowed a variance of +/-0.5 karats. That meant the item could be 13.5 carats instead of 14 karats. The law today states that true 14 karat gold must be stamped 14kp (the P standing for plumb). Common practice, however, remains entrenched in old world tradition, and today one does not always see 14kp stamped on every piece of jewelry sold in the USA. Benjamin Mark removes this element of doubt and fear. Whether stamped 14k or 14kp, the jewelry on http://www.tyler-adam.com is always plumb gold, to ensure that clients get full value.
The extensive jewelry knowledge of Benjamin Mark -- from silver to gold and platinum, from pearls to diamonds and every other gem stone, and from jewelry design to fabrication – guides Tyler-Adam customers to the most beautiful, safest, full-value selections.
Prices for jewelry found on http://www.tyler-adam.com are significantly below retail.
For more information, visit http://www.tyler-adam.com, email Benjamin Mark at info(at)tyler-adam(dot)com, or contact Tyler-Adam Corp, 42 West 48th Street, New York, New York 10036, USA, 212 921-8365.