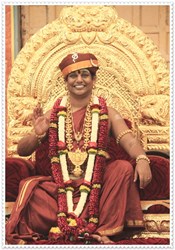 Nature celebrates your success. Nature wants you to be successful - His Holiness Paramahamsa Nithyananda
Los Angeles, CA (PRWEB) November 19, 2013
Nov 9th 2013 was a day full of Hindu rituals, celebrations and cultural programs at the Nithyananda Vedic Temple, in Montclair California to mark the Grand 6th Anniversary of the temple's opening. Hundreds of followers from worldwide joined the celebrations via 2 way video conferencing when the temple received special blessings and spiritual guidance from His Holiness Paramahamsa Nithyananda.
Installed by Enlightened Master His Holiness Paramahamsa Nithyananda, the Nithyananda Vedic Temple of Los Angeles (Montclair, CA) is not only a center of Hindu worship and meditation, but also educates and inspires millions of spiritual seekers worldwide. The auspicious day also commemorated the 6th anniversary of the budding Nithyananda University, a religious university, which was also established in 2007 with a grand vision for sharing Hinduism with the world as a Hindu-focused academic center of excellence
The Vedic tradition and culture which is the basis for modern day Hinduism and several other Eastern faiths has been a rich source of inspiration for thousands of years.
The Nithyananda Vedic Temple at Montclair, CA holds the largest number of tallest deities in North America. With more than 50 deities of Enlightened Masters from the Vedic tradition, the Nithyananda Vedic Temple serves as a place of worship, meditation and celebration.
In addition, the Temple also serves free maha prasad (energized satvic food) to all visitors and devotees, everyday. Being a place where meditation just happens naturally and effortlessly, the Nithyananda Vedic Temple provides the perfect ambience for Satsang (vedic congregation), Yoga and Meditation workshops. eNVidyalaya, a Sunday Vedic school for children from ages 4 to 14, at the temple, is one more hall mark offering specially designed for enlightened lifestyle.
More information on the temple events, programs including yoga, meditation, spiritual initiations, news and updates is available at http://www.nithyanandavedictemple.org/ and one can also subscribe to the Nithyananda Vedic Temple Newsletter by clicking here.
His Holiness Paramahamsa Nithyananda has designed and installed several temples worldwide as SPACE FOR Social and Cultural exchange as well as spiritual education. These temples are intense energy fields where the mind spontaneously moves within and meditation happens effortlessly. A spiritual incubator where every aspect of the temple from the deities to the rituals to the kinds of worship offered have been consciously created to make this experience happen.
About His Holiness Paramahamsa Nithyananda:
His Holiness Paramahamsa Nithyananda, recognized today as a clear, legitimate, apolitical voice of integrated Sanatana Hindu Dharma, is revered as a living incarnation of superconsciousness by millions worldwide.
He is a Maha Mandaleshwar (spiritual head) of Mahanirvani Peeth, the most ancient apex body of Hinduism, and the 293rd pontiff of Madurai Aadheenam, the oldest Hindu establishment. He is the most watched spiritual teacher on YouTube with over 16 million views, and the author of more than 200 books published in over 20 languages. His talks are watched live every day on http://www.Nithyananda.TV, as well as on multiple international television channels and via video conferencing.
Paramahamsa Nithyananda is also a powerful spiritual healer and adept who has successfully demystified yogic sciences like kundalini awakening, levitation, materialization, anti-ageing and going beyond food.
More Video Discourses by His Holiness Paramahamsa Nithyananda available for all seekers at: youtube.com/lifeblissfoundation