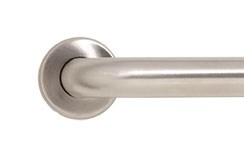 We are happy to now offer domestically manufactured safety grab bars with a peened finish.
Boston, MA (PRWEB) November 19, 2013
An innovative bathing supplier of elderly bathtubs and products for the disabled introduces stainless steel peened safety grab bars. These domestically manufactured ADA compliant grab bars come in a variety of sizes and finishes. They are potentially an ideal accessory for clients interested in purchasing a handicap roll in shower or walk in tub.
Customers can elect to have handicap grab bars installed for additional stability and support near walk in bathtubs, handicapped wheelchair accessible showers, toilets, entry ways or any other area that may be difficult to maneuver. Falls among the elderly and disabled can be relatively common. There are numerous products available for senior citizens and people who have physical disabilities that are ADA compliant, which can potentially help minimize dangerous falls from occurring.
The company also offers a designer series for shoppers who are equally as interested in matching the decor of their bathroom or home. According to the company, they are still incredibly functional, however look less commercial than some of the more standard products that are available. Depending upon the customer's specific needs, they can choose from 1.25" and 1.50" circumference models ranging in length from 12", 18", and 24" up to 36" in length.
People that have a limited range of mobility or suffer from conditions such as vertigo, rheumatoid arthritis and a number of other debilitation's may appreciate the convenience of a low threshold shower or step in tub. Not only can bathers actually sit down while they are taking a shower, but the appliances can also come with safety options like temperature control valves, textured flooring and even removable panels that accept lift forks.
Seniors are increasingly finding ways to age in place. Roll in showers and hydrotherapy walk in tubs can be installed into most residential locations and commercial applications. Homeowners can modify their bathroom to be more conducive to safety and be considerably more handicapped accessible.
According to the company, clients can order products to be drop shipped to their location individually or in bulk. In addition they provide a national installation network by licensed contractors in most areas across the country. Canadian residents can also have these exceptional products shipped to their location packaged professionally in a crate.
Knowing where to buy elderly bathtub products that are quality made can be a challenge, especially without paying the high department store prices. Fortunately Aging Safely Baths offers highly discounted handicapped bathing products for sometimes thousands of dollars less than competitors.
Furthermore, several of the company's bathroom appliances are ADA compliant and tested by third party organizations for quality standards. Potential customers can also have assurance in the company's excellent product warranties which are industry leading.
Besides for selecting the best product, experiencing first rate customer service is important. Aging Safely strives to have a representative available seven days a week. Their trained experts can answer questions regarding the products and installation. Nursing homes, assisted living facilities, long term care centers, hospitals and builders can receive prices reserved exclusively for commercial relationships. For more detailed information please visit http://www.agingsafelybaths.com or contact a customer care representative today.
Contact Information:
Zachary Wennstedt
1-888-779-BATH(2284)
info(at)Agingsafelybaths(dot)com