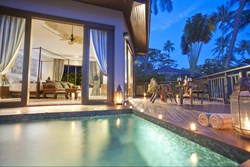 BANGKOK, THAILAND (PRWEB UK) 21 November 2013
The AHMS Collection of unique boutique resorts on the roads less travelled invites the lovelorn, singletons, jilted lovers, spurned suitors, divorce survivors and other casualties of love to take a solo holiday with a difference in the name of getting back on their feet.
With the overarching theme of the 'Power of One', each of the collection's resorts in Koh Samui, Phang Nga and Pranburi has devised its own take on just what it takes to mend a broken heart.
AHMS (AKARYN Hospitality Management Services) Founder and Managing Director Anchalika Kijkanakorn, also Chairman of Small Luxury Hotels of the World, said the idea was in keeping with the group's creativity that has brought guests experiences such as the Gourmet Gliders and Great Mates Escapes.
"Power of One is aimed at those courageously and bravely going solo and we'd like to give them some real 'me' time. So all of our resorts have come up with their own twist on devising great ways to begin bouncing back."
At Aleenta Phuket-Phang Nga, which recently unveiled its US$2 million makeover and expansion to grow in step with its long-time fans and devotees, the three-night 'Power of One' No More Tears package offers:

One Taste: We pack singles off with a gourmet picnic to enjoy solo as they soak in the serenity and solitude of the resort's pristine Natai Beach, with headphones and a special playlist prepared by the resort to create the ultimate soundtrack for letting it out, getting it together, and moving on up.
One Touch: Experience the Singleton's 'I Will Survive' Spa Session, a combination of pampering, massage, relaxation and facial treatments to make you glow with inner confidence and radiant beauty, while Aleenta helps to wash that man right out of your hair.
One Love: Gets good karma flowing and redirects tainted love towards a worthy cause: marine conservation. Dry those tears and help heal the ocean: Join the Pure Blue Foundation and spend a day doing good deeds at the nearby turtle sanctuary. And in the evening, release a hatchling into the wild in a stirring ceremony.
One on One: A choice for single guests: a choice of a yoga, meditation, or fitness session with your own personal instructor, for some special care and attention.
At sister resort Aleenta Hua Hin-Pranburi, experience the 'Power of One' Smash the Blues Getaway. This comprises:

Sweet Zen Sunday with breakfast in bed, private yoga class followed by a rejuvenating spa treatment (but strictly No Scrubs)
Wanna Be So High Monday with a paramotor trip soaring above the sparkling seas and organic farmlands of Pranburi and the resort to blow the cobwebs of your past life away. It's the ultimate adrenaline antidote for a lost love.
Gonna Be Bakin' Tuesday is the time to put all your love and heartache into bread and cake with baking for the broken-hearted. Rise above the pain.
The 'Power of One' Touched by an akyra's Angel tour offers a private, butler-style tour of Chaweng's vibrant night spots with an 'akyra's Angel' as your guide to uplift the spirit and get single guests back in circulation.
At upscale radiant boutique luxury resort AKARYN Samui Resort & Spa, on secluded Hanuman Bay, singletons can experience the 'Power of One' Salsa Your Sadness Away, in which a private dance session with a top dance instructor or choreographer will help the broken-hearted dance their sorrows away, while making the first steps to a new confident future.
Ms. Kijkanakorn said all single guests availing themselves of any of the four resorts' Power of One packages would receive a special mix CD during their stay - The AHMS Collection's 'Power of One' mix, a musical journey that echoes the trajectory of being dumped, from sadness and pain to denial, anger, catharsis and finally, acceptance, optimism and facing the future with a fresh confidence.
The AHMS Collection is a pioneer in Thailand's thriving luxury hospitality industry with a distinctive collection of rare gems; intimate, private and award-winning boutique hotels with suites, pool villas, and private beachfront retreats united by an intuitive approach to luxury, stunning design, personalised yet unobtrusive service, and a growing reputation for the extraordinary.
AHMS has created a Power of Heartbreak & Pain audio playlist and a Power of One Catharsis & Acceptance audio playlist. The resorts can provide these when guests arrive or send them over beforehand to get guests into their solo groove.
Prices are as follows: