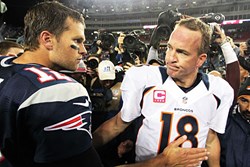 Denver, CO (PRWEB) November 20, 2013
Let's face it: Fans are fanatics, as well they should be. They want big games, great match-ups and tight contests. And, so far this season, NFL Football has delivered the goods.
Last Sunday in Denver, the week's big game lived up to its billing. But, in the end, the league's leading offense prevailed over the league's top rated defense. Peyton Manning, as precise as ever, was never threatened by the NFL's most proficient sacking squad. The Broncos burst the Chief's perfect season bubble 27-17.
Meanwhile, in last week's under-card game, the New Orleans Saints survived 23-20 on a last-second field goal. That dropped their opponent, the defending NFC champion San Francisco 49ers to 6-4 on the season but still in the hunt.
Then there's the Carolina Panthers who rallied to squeak by the New England Patriots for their sixth straight win. There were controversial calls in the Saints and Panthers wins, which naturally will be debated by fans and pundits alike for weeks to come.
Denver and Kansas City are both 9-1 and meet again after the Broncos travel to New England for another tough game. Kansas City hosts the San Diego Chargers this Sunday, before the Broncos come to town on December 1 for a rematch.
"Sports tickets are trending very high right now. NBA Basketball and NHL tickets are very popular as well as NFL tickets," said Marta Ault at online ticket marketplace BuyAnySeat.com.
"That's why we're proud to offer fans the most comprehensive and continuously updated selection of sports tickets online, with a worry-free guarantee to protect their purchase.
"To access the total line-up of NFL Football tickets now available, customers can go to BuyAnySeat.com and click on NFL Football – then select their team and their tickets," said Ault.
In this week's bleacherreport, the top ranked teams are the Denver Broncos (9-1), Seattle Seahawks (10-1), Kansas City Chiefs (9-1), Indianapolis Colts (7-3), Carolina Panthers (7-3), New England Patriots (7-3), Cincinnati Bengals (7-4), San Francisco 49ers (6-4), and Chicago Bears (6-4).
This weekend's big games include Denver at New England, matching Hall of Fame QBs Peyton Manning and Tom Brady. The game marks the 14th time the two have faced off. Brady is in the lead in their head-to-head competition with a 9-4 record, including 2-1 in the playoffs.
Manning and Brady have combined for over 110,000 career passing yards, 818 touchdowns, four Super Bowl titles in seven combined appearances, 20 Pro Bowls, and six MVP awards, including three Super Bowl MVP awards.
In Kansas City, the Chiefs need to bounce back after their first loss. Their opponent, the San Diego Chargers, after dropping their last three games (all by single digits), need a win in the worst way to stay alive in the AFC Wild Card battle. In another highly anticipated game, the hot Carolina Panthers travel to Miami to face the 5-5 Dolphins.
To shop for discount NFL Football tickets, visit BuyAnySeat.com.
About BuyAnySeat.com: An online ticket marketplace, BuyAnySeat.com connects sports, theater and other live entertainment fans to an extensive network of ticket sellers worldwide. The site's simplified listings and navigational tools enable shoppers to easily locate, compare and purchase inexpensive, discounted or lower-priced tickets to virtually all advertised sports and entertainment events around the globe.
The ticket marketplace, which is PCI-compliant and Norton Secured, also provides customers with a complete Worry-Free Guarantee on all ticket purchases. Based in Denver, Colorado, BuyAnySeat.com is a subsidiary of Denver Media Holdings. For more information, please visit http://buyanyseat.com.