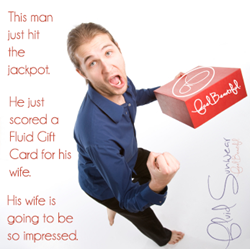 It's an amazing and unique gift idea. I know my girlfriend will love it, but it'll be easier to get nuclear launch codes than her measurements.
Galveston, TX (PRWEB) November 19, 2013
Fluid Sunwear offers clients its first ever Gift Card Program; developed in response to several inquiries received by male clients intent in giving a Fluid apparel as a gift to their significant other. Fluid created a Gift Card Program as special as their made-to-measure swimsuits - giving men the opportunity to give the best women's gift this holiday season. Gentlemen wanting to gift a Fluid swimsuit can now do so without being terrified at the prospect of asking their significant other for their body measurements.
"It's an amazing and unique gift idea. I know my girlfriend will love it, but it'll be easier to get nuclear launch codes than her measurements," said Chad I., Chef and Restaurant Manager. "I am not comfortable asking her. I think she would kill me."
In order to meet such special customer demand, Fluid created a Gift Card Program which allows customers, such as Chad, to purchase a gift card for the special women in their lives. This allows men to surprise the woman in their lives with a very unique gift unlike anything she has ever received before- without fearing imminent threat to their livelihood.
"The Fluid experience is not just about the novelty of owning a custom made bathing suit," says Ginger M., mom, NGA Figure Competitor and loyal Fluid client. "It's about the freedom and confidence that comes with wearing a piece that has been custom fit to your own body. It makes you feel like a whole new woman."
"I am used to getting up in front of a crowd in a skimpy Figure Competition Bikini and performing with confidence, yet I still feel uncomfortable in a regular swimsuit," continues Ginger M. "This baffles my husband who doesn't understand why I get so upset about wearing a basic suit. It baffles him I am able to stand in front of a panel of judges in a small bikini, but not go to the pool in a one piece swimsuit. My response is simple: every one of my competition suits are custom made to fit to my body, and -until I found Fluid Sunwear - my bathing suits were not. It makes a difference. It really does."
Any Fluid Gift Card may be redeemed at the leisure of these lucky women for any item on Fluid Sunwear's website, including Fluid's clothing. At which time the card is redeemed, Fluid's experienced staff will assist women in customizing the perfect swimsuit; ensuring every Fluid Gift Card Giver gives a truly memorable gift this holiday season. Simply go to http://www.fluidsunwear.com and purchase a gift card in the desired amount. Fluid Sunwear will do the rest.
Fluid also provides additional Gift Card Services – from developing creative ideas to present a Fluid Gift Card to creating a personalized physical gift card for each woman. Any gift card giver my contact Fluid to assist them in making sure it will be a gift remembered.
For more information, or to buy Fluid Sunwear's Gift Cards, visit Fluid's website at http://www.fluidsunwear.com or call 409.974.7017.
To view a video about Fluid Sunwear and its mission visit http://www.youtube.com/watch?v=3ihPdtQ1_K0.
About Fluid Sunwear
Established in 2013, Fluid Sunwear is a clothing line specializing in women's made-to-measure luxury swimwear and ready-to-wear designer sunwear. Fluid takes luxury swimwear to the next level offering women indulgent style, pure extravagance and timeless beauty, an experience not currently available through any other swimwear line. For more information, contact Fluid Sunwear via e-mail at info(at)fluidsunwear(dot)com, or telephone number: 409.974.7017.