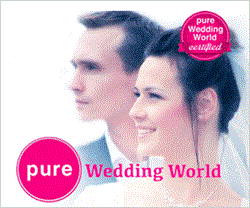 Wedding Deposit Guarantee and a Replacement Supplier Guarantee
London (PRWEB UK) 20 November 2013
The initial launch of Pure Wedding World certification in May this year was seen by many as a big step in the right direction for professional wedding suppliers, but Pure Wedding World said there was still plenty to do.
This month will see the official launch of the new Free Wedding PA service that will include a Wedding Deposit Guarantee and a Replacement Supplier Guarantee. Because the industry has little or no regulation, many brides pay large deposits in some cases 75% up to a year before the actual wedding day only to find that the supplier has disappeared or gone out of business. This has to change and Pure Wedding World has encouraged its certified suppliers to agree to a deposit plan of 20% upon booking and 80% one month before the big day.
"We are excited to launch our Free Wedding PA service with the addition of a Wedding Deposit and Supplier Guarantee," said Mike Mazza Pure Wedding World CEO, "This will protect brides from paying a deposit and losing it, but more importantly it will give brides who book a supplier through Pure Wedding World a guaranteed replacement supplier on-site within 2 hours in the event that any of our certified suppliers cannot attend for whatever reason. No longer will brides be left high and dry on their wedding day."
Most American's use a wedding planner but U.K brides prefer to plan their own wedding seeing a Wedding Planner as a service for the rich and famous. But with the average age of a bride today being 31, many brides struggle to combine long working hours with planning their big day. Wedding planners spend on average 250 hours planning a wedding. "How many brides these days have that much spare time?" said Mike Mazza.
Pure Wedding World's mission is to make self-planning a wedding as enjoyable a time for the bride and groom as possible. "With the new Free Wedding PA service we believe this will become a reality, especially now the service includes a Free 1 hour consultation with a wedding planner who will help couples place structure to their wedding plan and provide every bride with professional advice regardless of their budget. Once the plan has been received a Wedding PA will start to put together prices and a personalised E-brochure with graphic designed examples of local suppliers work and experience before contacting the bride to arrange a consultation with a certified supplier," explained Mike Mazza
Pure Wedding World are already the U.K's largest wedding planning company, but the new Free Wedding PA service has taken their buying power to another level with over 1,000 brides registering every month with the service. "We have managed to balance quality with price" said Mike Mazza, "our buying power increases every month but we still visit and certify every supplier in person before we will refer any of our brides."
For more information or to register for a Free Wedding PA service visit http://www.pureweddingworld.co.uk or call on 08000 438 538.