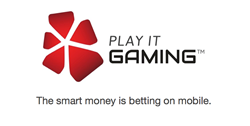 The opportunity to bring social gaming experiences to mobile consumers in emerging markets is massive
Calgary, Alberta (PRWEB) November 19, 2013
Working in partnership with biNu - the super-fast, cloud based, app platform which enables iPhone-like functionality on feature phones – Play It will deliver a multitude of social gaming experiences including the ability to place wagers on the most hotly anticipated global sporting events - to an active, existing base of 5 million users, the vast majority of which are in emerging markets.
"Non-Smartphone installed base expected to reach 5.41 billion as of end 2016"
A recent independent study carried out by Portio Research outlined the significant market potential in providing content and services for feature phone users.

Less than 1 in 7 handsets worldwide was a Smartphone as of end-2011
Even by end-2016, less than 2 in 5 handsets worldwide are estimated to be Smartphones
Play It plans to use the capital raised to initiate an extensive user acquisition strategy. This is expected to come through extending partnerships with global affiliate networks and implementation of a large-scale marketing drive in their territories of initial focus within Latin America, Asia and Africa.
Play It President Cory Cleveland commented, "Right now, smartphone technology is getting all the major headlines but, the reality is, there are currently over 5 billion underserved feature phone users. The incredible biNu platform has enabled users of this lower-end mobile technology, predominantly within emerging markets, to access previously unattainable information and services and the desire for this content is enormous. Being able to introduce state-of-the-art social gaming experiences to this platform, and engage with new users from all corners of the globe, is an incredibly exciting prospect."
biNu CEO, Gour Lentell remarked "We're excited to be working with the Play It team. The opportunity to bring social gaming experiences to mobile consumers in emerging markets is massive and the combination of biNu's mobile technology platform with Play It's content, focus and industry expertise is a sure winner."
Images available on request.
About Play It Gaming
Play It Gaming enables users in emerging markets to participate in super-fast, cloud-based social gaming through their feature mobile phone devices.
Web: http://www.playitgaming.com
Twitter: @playitgaming
Facebook: http://www.facebook.com/playitgaming
About biNu
biNu is a privately held company that develops the biNu mobile app platform that dramatically improves Internet access speed, usability and social connectivity of mobile phones. With biNu, even basic mobile phones exhibit high-end smartphone-like capabilities. biNu works on the thousands of Java-enabled and Android-devices and supports millions of users globally with rapid adoption rates in emerging economies where mobile phones are the primary Internet access device.
Twitter: https://twitter.com/binumobile
Facebook: https://www.facebook.com/2468binu
For further information and interviews please contact:
Josh Stanbury | Business Instincts Group | josh(at)businessinstincts(dot)ca | 403-781-6671