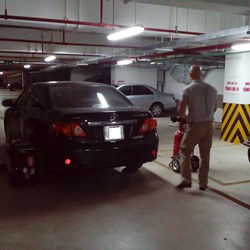 (PRWEB) November 19, 2013
In the Asian tropical summer, in a hot and humid underground parking lot, Vidisco's security expert performed a test case with the local police department in order to ascertain if the RayzorX portable digital X-ray security system can perform under extreme tough conditions. The police agents hid a gun in a car and sent Vidisco's security expert to find it with the sole use of the RayzorX portable X-ray system.
Vidisco's security expert embraced the challenge and set up the system in field conditions with a fire extinguisher as an improvised tripod for the X-ray source and the system's suitcase as an impromptu panel holder. The distance between the panel and the source was set at a distance of three (3) meters away from one another (with a vehicle in between). Even though the RayzorX panel is rather small in size, there was no problem inspecting the entire trunk of the car in minutes.
Only four images were taken in order to find the gun. Since the RayzorX is a digital X-ray system and images are available on the laptop within seconds, the total time it took to X-ray the car trunk was two minutes. The set-up time including finding two improvised tripods took an addition five minutes. In total, it took seven minutes from the moment the police and Vidisco's security expert came to the scene, until the gun was found.
The EOD team was impressed!