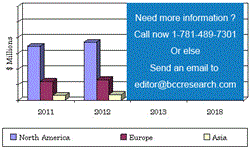 Global Bariatric Devices Market To Grow Nearly $1.9 Billion By 2018
Wellesley, Mass (PRWEB) November 19, 2013
According to a new technical market research report, Bariatric Surgery: Global Markets for Services and Devices from BCC Research (http://www.bccresearch.com), the global bariatric devices market was valued at nearly $1.1 billion in 2012 and is expected to reach nearly $1.2 billion in 2013. BCC Research projects the market to grow to nearly $1.9 billion by 2018, and register a five-year compound annual growth rate of 9.6% from 2013 to 2018.
Bariatric surgery is more effective for achieving weight loss than nonsurgical management in people with a body mass index (BMI) of more than 30 kg/m2 as well as those with more severe obesity and weight loss is more likely to be maintained in the longer term. Bariatric surgery is not only limited to patients with severe obesity, but it is considered an appropriate treatment for people with type 2 diabetes and obesity as well those who are not achieving recommended treatment targets with medical therapies, especially when there are other major comorbidities.
With a rapid increase in the population suffering from obesity and related comorbidities, there is a critical and growing need for new and improved treatments for obesity. Obesity also represents a tremendous cost burden to healthcare systems around the world. Consequently, the number of bariatric surgeries carried out on a global scale is also increasing, and this increase has created a multimillion market for the specialized devices and instruments used for bariatric procedures, including stapling devices, trocars, gastric bands, gastric balloons, and other surgical instruments and accessories.
Although gastric bypass procedures are decreasing in the United States and Asia, this type of procedure remains the gold standard weight loss procedure among all bariatric procedures. Sleeve gastrectomy is gaining acceptance among patients and healthcare providers due to published results of greater weight loss than gastric banding and the willingness of third-party insurance providers to fund the operation. However, gastric banding procedures are continuously declining across the globe due to a waning interest in restrictive devices such as gastric bands and intragastric balloons.
This report for BCC Research provides a comprehensive overview of the global market for bariatric surgery devices, including stapling devices, trocars, gastric bands, gastric balloons, and other surgical instruments, and accessories. It presents analyses of global market trends, with data from 2012, estimates for 2013, and projections of CAGRs for the period 2013 and 2018. The study also discusses the various types of obesity, etiology, and pathophysiology; risk factors; economic burdens; epidemiology as well as obesity treatment and management. In addition, it provides an examination of the types and the criteria for bariatric surgeries, along with common complications and the average cost associated with post-surgical complications; a historical perspective on and the current scenario for bariatric surgery procedure; and an evaluation of the current clinical challenges, unmet needs, and future outlook.
This report is intended for the bariatric surgery interest community, but is especially tailored for readers with an interest in the marketing and management dimensions of bariatric surgery services and devices, including the medical and surgical devices industry, medical research institutions, the investment community, and the financial and analyst community.
Source:http://www.bccresearch.com/pressroom/hlc/global-bariatric-devices-market-grow-nearly-$1.9-billion-2018