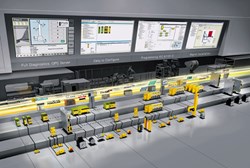 Ostfildern, Germany (PRWEB) November 20, 2013
With its latest innovations, Pilz offers a seamless portfolio of sensors, control systems and drives, including diagnostics and visualization at the SPS IPC Drives. What the customers get is a complete, one-stop solution, whether it concerns a new machine, an expansion, or a retrofit. Pilz solutions cover standard control functions as well as safety-related functions. Pilz products can also be implemented in any application environment, i.e. they are also suitable for communication and connection to all common fieldbus systems.
Sensor Technology for Greater Efficiency
Innovations in the field of sensor technology include the light beam multifunctional devices PSENopt "advanced", which can be used for muting, blanking and cascading and can easily be installed and operated without the need for external tools.
Control Technology: Standardizing Safety
Pilz will be demonstrating how safety solutions can be standardized with its configurable control systems PNOZmulti. As the systems are open, they can be connected to a range of different operational control systems, increasing its flexibility in terms of the size and individual requirements of an application.
In addition, complete automation solutions are based on the control systems PSSuniversal PLC in the automation system PSS 4000 and a new feature is support for the communication protocols Ethernet/IP, CANopen and EtherCAT, providing users to merge control functions for standard and safety in a single architecture.
Drive Technology: Safe, High-Performance Motion
In the field of drive technology Pilz is exhibiting a complete solution for safety on vertical axes offering various solution approaches, depending on the specific application. From a brake test to the control of two high-performance holding and safety brakes with the new safety relay PNOZ s50, plus redundant fall protection with the safe motion solution PMCprotego DS.
The new RTFL interface for motion control systems will exhibit a communication mode based on standard Ethernet, enabling extremely short cycle times as well as satisfying safety requirements.
Simpler Diagnostics and Visualization
Pilz will be showing the complete 5th generation of PMI operator terminals, which offers a diagnostic and visualization concept tailored to the requirements of plant and machinery in increasingly complex production processes.
Services for Greater Safety
Services, consisting of consulting, engineering and training on machinery safety are an important part of the Pilz portfolio. The international training program CMSE® - Certified Machinery Safety Expert - was initiated jointly by Pilz and TÜV Nord and will be starting up in Germany in the autumn. With this "Driver's license for machinery safety", Pilz is setting international standards.
The new version of the PAScal Safety Calculator will be also presented in Nuremberg and enables key safety parameters such as Performance Level (PL) and Safety Integrity Level (SIL), making possible to convert existing libraries that use other formats into the VDMA format.
Latest Information and Exhibition Vouchers Online
The most important information about the SPS IPC Drives 2013 and the free exhibition tickets are available now on the Pilz exhibition page for SPS IPC Drives.
Further Information:
About Pilz:
Pilz has a tradition as a family-run company stretching back over 65 years. Our proximity to customers is evident in all areas - Pilz instills confidence through personal consultation, high flexibility and reliable service. Worldwide, around the clock, in 30 subsidiaries and branches as well as 15 sales partners on all continents. More than 1700 staff, each one of them an ambassador for safety, make sure that your company's most valuable asset - your staff - can work safely and free from injury.