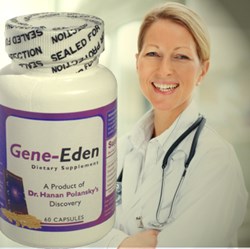 In addition to better education and HPV awareness programs, Native American men and women should consider taking Gene-Eden-VIR, an affordable, natural HPV remedy proven to reduce symptoms in infected individuals. – Mike Evans, polyDNA
Rochester, NY (PRWEB) November 20, 2013
Dr. Schmidt-Grimminger said that "about 70 out of every 100 American Indian women between the ages of 18 to 24 carry the HPV virus (1)." This rate is roughly three times higher than the national average, and it is due to a number of factors such as a lack of awareness, education, and cultural barriers (1).
Gayle Dupris, Residential Aid at the Women's Half-way House at Cheyenne River, said "We need more out-reach programs and education in the schools (1)." And Julie Ellingson, from the South Dakota Dept of Health said that "We need more culturally appropriate resources (1)."
The article also noted that, "HPV is a sexually transmitted disease that can cause cancer. Native Americans in the Northern Plains suffer a disproportionate burden of cancer; they have more cancer cases and deaths, compared to whites in the same region and Native Americans in other regions. Native American women in the Northern Plains are 2-3 times more likely to get cervical cancer than white women living in the same region (1)."
polyDNA points out that while there is a push to have women vaccinated with Gardasil or Cervarix, these vaccines do nothing for those already infected with HPV. In other words, if someone already is infected with HPV, and has signs of cervical cancer or if someone has genital warts, the HPV vaccine won't work for these individuals. As the Gardasil website itself notes "GARDASIL may not fully protect everyone, nor will it protect against diseases caused by other HPV types or against diseases not caused by HPV. GARDASIL does not prevent all types of cervical cancer, so future cervical cancer screenings will be important for your daughter. GARDASIL does not treat cervical cancer or genital warts (2)."
"In addition to better education and HPV awareness programs, Native American men and women should consider taking Gene-Eden-VIR, an affordable, natural HPV remedy proven to reduce symptoms in infected individuals." – Mike Evans, polyDNA
A study published on August 12, 2013 in the peer reviewed, medical journal Pharmacology & Pharmacy, in a special edition on Advances in Antiviral Drugs, showed that Gene-Eden-VIR reduced HPV symptoms. Study authors wrote that, "Individuals infected with the HPV…reported a safe decrease in their symptoms following treatment with Gene-Eden-VIR (3)." The study authors also wrote that, "We observed a statistically significant decrease in the severity, duration, and frequency of symptoms (3)."
To learn more about Gene-Eden-VIR, and HPV visit http://www.gene-eden-kill-virus.com. All orders of Gene-Eden-VIR are completely confidential, and no information is shared or sold to any third party. Privacy is assured.
References:
(1) http://indiancountrytodaymedianetwork.com/2013/11/11/hpv-rates-three-times-higher-american-indian-women-us-population-152180
(2) http://www.gardasil.com/about-gardasil/about-gardasil/
(3) http://gene-eden-kill-virus.com/PP_Gene-Eden-VIR-is-Antiviral.pdf
polyDNA is a biotechnology company that develops dietary supplements using the unique scientific method developed by Dr. Hanan Polansky, which is based on Computer Intuition.
In addition to his unique scientific method, Dr. Polansky published the highly acclaimed scientific discovery, called Microcompetition with Foreign DNA. The discovery explains how foreign DNA fragments, and specifically, DNA of latent viruses, cause most major diseases.
polyDNA developed Gene-Eden-VIR, an antiviral natural remedy that helps the immune system kill latent viruses.