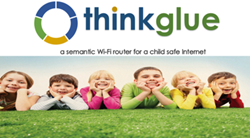 Real time semantic content analysis could stop inappropriate content from entering our house.
(PRWEB) November 19, 2013
Thinkglue.com, an innovative start up based at the Google Technology Centre in London has just launched a crowd funded project to embed their semantic video analysis technology into a home Wi-Fi. The project aims to stop inappropriate content from entering our houses by applying real time semantic analysis of any media stream trying to reach our mobile devices and pcs.
Unlike other solutions, Thinkglue performs real time semantic stream analysis to detect inappropriate language in videos, bad images and child unsafe sites without the need to install special software and without relying on people to flag child unsafe content. Violent videos from YouTube can be a thing of the past.
At the core of the project lies a semantic video engine already used commercially. Some of the Thinkglue clients were leveraging the technology to detect brand safe videos before placing video ads. The move to detect child safe videos was natural for Thinkglue and they are now seeking funds to push this new project.
The team behind the engine recently received seeding funds and boosts 40+ scientific publications, 3 patents filed, PhDs in Semantic and Media data analysis, and a management team with a past experience with Microsoft.