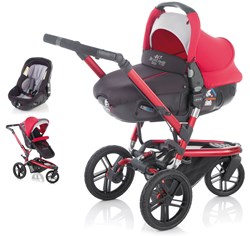 'The Jané brand is synonymous with quality, style and innovation and deserves recognition.'
(PRWEB UK) 20 November 2013
Quality pushchair and car seat manufacturer Jané has triumphed in the Pushchair Trader and Nursery Trader Awards by scooping an impressive four accolades.
Jané beat stiff competition in Pushchair Trader's Best Baby and Toddler Gear Awards securing Gold for both the Jané Trider Extreme Pushchair and the Jané Matrix Light 2 Car Seat.
Jané also scored a bronze award in the Tandem section for its compact innovative Jane Twone and its competitively priced stylish Muum Pushchair.
David McCullough from Johnston Prams and Buggies, the UK and Ireland distributors of Jané says: "I am so proud that Pushchair Trader has recognised Jané in their prestigious awards. The Jané brand is synonymous with quality, style and innovation and deserves recognition. I know that the team at Pushchair Trader have carried out an extensive review process and that only really exceptional products are deemed winners."
William Studholme, MD of Pushchair Trader and Nursery Trader who organised the awards said: "Our Best Baby and Toddler Gear awards highlight some of the best products the industry has to offer and give all entrants an online location where consumers can read and learn more before purchasing. We would like to thank everyone who entered and congratulate the winners and those who were shortlisted."
Ends.
Contact information
For more information contact Fiona McMullan or Donna McCullough at Johnston Prams and Buggies Ltd., Tel: +44 (O)28 9084 9045 Ext 209 or email fiona (at) johnstonprams (dot) co (dot) uk or donna (dot) mccullough (at) johnstonprams (dot) co (dot)uk
Our experts are happy to speak to the media about all aspects of car seat safety and pushchair innovation.
Notes to Editors
Johnston Prams and Buggies Ltd. is the official UK and Ireland distributor for the Jané brand.
The Jané company was formed in Barcelona in 1932 and boasts over 80 years of experience in the pram and nursery industry. The company is committed to developing revolutionary patented products that put child health and safety first and has its own state-of-the-art car seat crash test research centre. Innovation, style and quality ensure that Jané is the choice of parents who are committed to buying the best for their baby. For more information visit http://www.johnstonprams.co.uk.
Jané's quality, safety and innovation has been recognised down through the years and the company has won many prestigious industry awards.