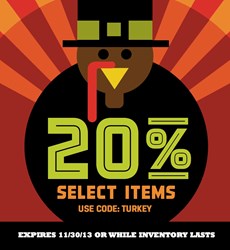 The Goal Of This Substantial Discount is to Increase Awareness of a Beautiful New Selection of Tiles
Nashville, TN (PRWEB) November 19, 2013
Mission Stone & Tile, national online tile retailer, Announces 20% off Sale through Thanksgiving.
Take advantage of these discounts by visiting the Mission Stone Tile Online Store, and enter the code TURKEY to receive 20% off Tile, Mosaics, Basketweave Tiles, Porcelains, and more in their annual winter sale. Items in the Winter Sale Category qualify and only while inventory lasts.
According to Mission Stone Tile President, Mary Elizabeth Oropeza, the goal of the substantial discount is to increase awareness of a beautiful new selection of mosaics offered only by Mission Stone Tile.
Mission Stone & Tile is open weekdays from 8:30 am to 4:30 pm for those who wish to register, and 24 hours a day online at store.missionstonetile.com.
About Mission Stone Tile
Mission Stone & Tile is a premiere importer and distributor of natural stone, ceramic, and porcelain tile collections, founded by tile industry veteran and interior designer Mary Elizabeth (Hulsey) Oropeza. Mission Stone & Tile is the culmination of 20 years expertise in stone and tile, grounded in a commitment to meet the needs of designer, architectural, builder and contractor clients.
Mission Stone & Tile showrooms are true design resource centers - light, open spaces filled with samples to inspire custom designs.
Locations are open weekdays between 8:30 and 4:30. Mission Stone & Tile's online store is accessible anytime at store.missionstonetile.com.
Mission Stone Tile- Headquarters
2930 Sidco Drive
Nashville, TN 37204
T: [615] 244-6448
F: [615] 244-6508
E: info(at)missionstonetile(dot)com
Mission Stone Tile- A Tile Showroom in Chattanooga, TN
55 East Main Street Ste 102
Chattanooga, TN 37408
T: 1-877-529-8453
E: chatt(at)missionstonetile(dot)com