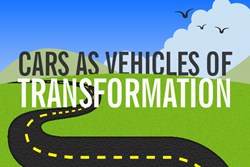 The amazing power of cars lies in their ability to alter people's sense of self.
Boston, MA (PRWEB) November 20, 2013
Today, Protobrand releases the results from a study examining people's deep-seated thoughts and feelings about cars. The Meta4 study, which was completed by people who have purchased a vehicle for personal use in the past two years, reveals how cars are not just modes of transportation, but more importantly vehicles for personal transformation.
"Conventional thinking assumes the primary role of cars is to move people from one point to another. While still true, the amazing power of cars lies in their ability to alter people's sense of self," says Anders Bengtsson, CEO of Protobrand. The study reveals that when people buy a car, they feel an abundance of opportunities lying ahead of them. Metaphorically, the car makes them think of themselves as birds that enjoy unrestricted freedom. For others, cars provide an important confidence boost to the sense of self, making them feel as if they are dominant predators who rule the jungle.
As cars act as a badge of achievement and continuous momentum, purchasing a new vehicle represents a moment that is worthy of celebration. Buying a car marks a milestone and represents the beginning of something new. While the car dealer ideally should be a natural part of celebrating that milestone, they are oftentimes seen as an obstacle. Because dealers are tainted by a reputation for being less than honest, people feel that they manage to buy cars despite the dealer and not because of the dealer.
About Mood of the Nation™ and Meta4 Insight™
"Mood of the Nation" is a pulse check of people surveyed through Meta4 Insight™. The methodology builds upon decades of academic thought and scientific research into the workings of the human mind. Meta4 Insight is facilitated through an online application, using a proprietary image database to reveal people's subconscious minds.
About Protobrand Sciences, Inc.
Protobrand is an independent research and branding consultancy that offers a unique perspective on emotional insight mining. Through Meta4 Insight – our online application for metaphor elicitation – we mine the human subconscious and uncover the rich, hidden motivations behind people's behavior. With such insight as a foundation, we craft strategic and creative solutions that result in emotionally resonant brand relationships. Clients include major consumer brands such as Lee, Disney, Marriott, Bank of America, Target, Toyota, and Wendy's.