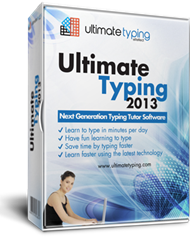 ...these innovations are shaped by the need for user-friendly and time-effective touch-screen keyboards.
New York City, NY (PRWEB) November 27, 2013
Ultimate Typing™ and its software development company eReflect reported recently on UltimateTyping.Com, the latest developments in keyboard design, and discussed how these innovations are shaped by the need for user-friendly and time-effective touch-screen keyboards. eReflect discussed the latest Windows 8 touch-screen keyboard and how it's a prime example of a keyboard design that used user feedback to adjust its interface in order to improve the user's experience.
Mobile devices such as tablets and smartphones feature touch-screen keyboards for a number of reasons, including economy of space, aesthetics, and sheer functionality. However, this poses certain challenges for touch-screen keyboard designers who need to take into account a variety of issues, including the absence of physical keys, thumb and finger reach, overly-cluttered button layouts, and keyboard designs that need to serve both one-hand and two-hand typists.
As eReflect noted, this has been a challenge that the Windows 8 touch-screen keyboard developers faced and eventually resolved. Taking an alternative approach to keyboard design, they relied heavily on user feedback to ensure the finished keyboard interface would optimize the Windows 8 user experience on mobile devices. Commenting on how thoroughly the keyboard developers examined the feedback gathered from beta testing possible layouts, eReflect said how impressed they were by the meticulousness and professionalism exhibited in the process.
While it would seem that keyboard training on non-physical, glass keyboards would be somewhat daunting, the developers of the Windows 8 touch-screen keyboard proved that, when users are provided with an intuitive, user-friendly keyboard layout, they can easily get the hang of it. As it turns out, the non-physical keyboard is gaining ground, eReflect concluded; with use, individuals grow more accustomed to the absence of physical feedback and smoothly move onto visual and sound feedback as another way of gauging their typing speed and accuracy.
eReflect reported that the Windows 8 keyboard developers experimented with different keyboard layouts to ensure an optimized user experience that would take care of thumb-only and multi-finger typing users, offering optimal key size and touch typing feedback among many other parameters.
For more details on Ultimate Typing™ please visit http://www.ultimatetyping.com/.
About Ultimate Typing™
Ultimate Typing™ software is designed specifically for the improvement of typing skills. Created by eReflect, a world leader in e-learning and self-development software, Ultimate Typing™ has been informed by the latest developments in the science of touch typing.
Since its creation in 2006 by Marc Slater, the company has already catered to over 112 countries all over the world, offering products with the latest cutting-edge technology, some of which are among the world's most recognized and awarded in the industry.