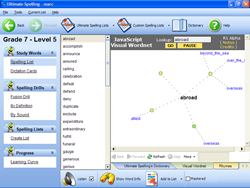 ...the methods for effective spelling instruction are less about the "methods" per se, and more about the brain power behind the process.
New York City, NY (PRWEB) November 23, 2013
A new course has been released by eReflect, the company behind the Ultimate Spelling software, via Slideshare.net. It's focused on improving spelling skills through a 10 lesson series which emphasizes 7 types of spelling methodology. In an innovative approach, the course starts out with a look at a poem written to be correct as far as the individual spelling of the words goes. In other words, were the poem to go through a technological spell check program (i.e. Word Spell Check) it would pass, and if heard (not seen), it would not raise any alarms. However, when the poem is read it's obvious that there is a strong relationship between spelling and grammatical context, and the poem serves its purpose in illustrating that spelling and grammatical structure go hand in hand.
In a brief statement announcing the release of this new spelling course, a representative from eReflect also discussed a shift in the teaching focus of schools over the last few years, which has moved from spelling to reading. As a result, students are often left with poor spelling habits which receive little to no correction, even though the students exit the program with decent reading skills. The Ultimate Spelling editor expressed the company's mission to marry the fading skill of spelling and reading, returning a proper balance to linguistics.
eReflect noted that the methods for effective spelling instruction are less about the "methods" per se, and more about the brain power behind the process. Simply stated, eReflect looked at the effectiveness and volume of the information which is committed to memory that yielded marked improvement, and used that as an unbiased way of selecting the educational approach. This also explains the multiple method presentation, commented the eReflect representative; it is designed to educate people of all ages and education levels and it is thus necessary to include more tools that are generally found in a one-size fits-all course.
In the new course, the user will find tools such as the Visual Method, Graphonic or Sound Symbol Knowledge, Morphemic Word Knowledge, Computer Aided Spelling, Word Identification, the "Look, Think, Cover, Write, Check" method, and Pattern Spelling. Each method is presented with an example, a description of the power and theory behind its success, and practical applications for execution of the methods to improve spelling. eReflect is confident that this approach will create greater spelling knowledge in users, and that the course will accomplish its goal in a short period of time due its effectiveness.
For more information about how Ultimate Spelling software can improve spelling performance for you and your family, please visit the official website at http://www.ultimatespelling.com.
About Ultimate Spelling™
Ultimate Spelling provides a modern and easy to use spelling software that has been designed with one goal in mind – making children want to learn.
It is a fast and easy way to master even the most complicated spelling, without the need to write long lists or complete boring tests.
In fact, Ultimate Spelling provides more than just spelling help. It is a complete educational resource that boosts all level of a child's literacy.
Containing a personal computer tutor, Ultimate Spelling is the most realistic step-by-step guide to flawless spelling ability.