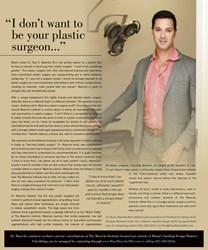 I don't want to be your plastic surgeon
Miami, Florida (PRWEB) November 19, 2013
This month, Modern Luxury's Miami Magazine features a public statement from the founder of The Maercks Institute Miami. Dr. Rian A. Maercks, renowned artist of plastic surgery, states "I don't want to be your plastic surgeon." The statement reflects Dr. Maercks' dedication and commitment to the art of medicine, surgery and aesthetics and to his patients best interests.
Dr. Maercks originally trained in fine arts and philosophy before deciding on medical training. Thus it was through the eyes of an artist and the mind of a philosopher that he approached training. An inventive spirit from the start, Maercks had devised new approaches to the array of plastic surgery specialties early in his career. After pursuing elite training from masters across the globe, Dr. Maercks returned home to Miami to develop what would become one of the most unique plastic surgery practices to exist.
In the international community Maercks was an instant sensation. To date a significant percentage of Dr. Maercks' practice arrives from Western Europe, Asia, Central and South America and Canada. Maercks' loved techniques and principles are so contra-culture to conventional plastic surgery, a solo private practice was the only option for this "outside the box" thinker. Maercks founded The Maercks Institute, now an international buzz word, as a home for his revolutionary practice.
Dr. Maercks' seemingly surprising statement this month is a sort of call to attention for domestic patients to learn of the options he offers. Dr. Maercks commented "I am not everyone's plastic surgeon, however for those with compatible aesthetic ideals, I believe that I deliver results that are unparalleled." Dr. Maercks is certainly not the surgeon to seek out for exaggerated facial features or "augmented looking" breasts even though these features seem to be desired by most of the population. Dr. Maercks is focused and committed to delivering results that do not look like plastic surgery but rather natural beautiful form. With few physicians of similar mind and dedication it is understandable why Dr. Maercks does not want to be your plastic surgeon, but rather your Dr. Maercks. Exclusive private consultations are conducted just outside Miami's design district at The Maercks Institute, 4500 Biscayne Boulevard suite 104, Miami, Fl 33137.