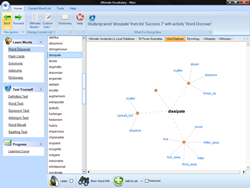 ...words go out of fashion and become relegated to history books as new words come in.
New York City, NY (PRWEB) November 26, 2013
In an Ultimate Vocabulary blog post, eReflect offered its own analysis of recent changes to the English language, along with a discussion of how the English language is continually evolving and adapting to changes in the world of English speakers.
As eReflect pointed out, words go out of fashion and become relegated to history books as new words come in. Word pronunciation has also evolved, and continues to do so, along with spelling. Many words also take on new meanings over time. eReflect gave the example of the world luxury, which had an original meaning of "sinful self-indulgence or debauchery," a far cry from its meaning today.
eReflect also discussed the fact that while spelling, usage and pronunciation changes are common, the creation of words from symbols is less common. It has become fairly commonplace today for people to vocalize punctuation marks such as "slash" (/) or "period" (.), as in, "You are not borrowing the car, period."
The software developer points to these new uses as an interesting development in modern English, although it does emphasize a particular problem for English learners. Irregular spelling, pronunciation and slang are often problematic for children learning the language and ESL students, and many people have advocated changing the spelling of many common English words to assist people learning English.
One of the modern era's most well-known spelling reformers is a woman known as Marsha Bell, who has published many books and appeared on television and radio. She advocates reducing irregular spellings of words that most impede progress with learning to read and write the English language, as well as inconsistent use of doubled consonants for indicating stressed short vowels, such as rabbit and habit.
According to eReflect, non-native English speakers often have difficulty keeping up with changes in the language, as well as idioms and slang. The company's software, Ultimate Vocabulary, is designed to help English learners understand this aspect of the language, something that cannot be easily taught in a textbook, in order to give them improved vocabulary skills and greater employment opportunities overseas.
eReflect's self-improvement software is designed for home use as well as use in schools, colleges and universities around the world, and it helps students learn not only conversational English but business vocabulary, slang and the language's ever-changing use in the modern world.
For more information on how you can benefit from Ultimate Vocabulary, please visit its official website, http://www.ultimatevocabulary.com.
About Ultimate Vocabulary™
Ultimate Vocabulary provides a proven and powerful platform, built to improve anyone's vocabulary.
The interactive self-improvement system provides more learning tools than any other program on the market, as well as more information on words.
The Ultimate Vocabulary software provides each and every user with a personal computer tutor. Providing a step-by-step guide to learning a powerful vocabulary, Ultimate Vocabulary is the learning tool everyone can benefit from.
Of course, the software is also backed by eReflect's iron-clad money back guarantee.