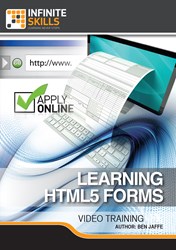 Learn new input types and attributes at your own pace with the Learning HTML5 Forms training course.
(PRWEB) November 19, 2013
Software training firm Infinite Skills Inc. last week introduced its "Learning HTML 5 Forms Tutorial," an advanced-level course focusing on the new form attributes available in the latest version of the web markup language.
HTML 5 is the markup language used for structuring and presenting content on the web. The fifth version of the language has seen many advancements in its capabilities, most notably the ability to include multimedia on the web without having to rely on external plugins.
Infinite Skills' Learning HTML 5 Forms Tutorial explores the advancements included in HTML 5 for working with forms, helping HTML 5 users to begin using new input types and attributes in a matter of hours.
Learning HTML 5 Forms Video Tutorial - Streaming
Course author Ben Jaffe is a freelance front-end web developer and instructor in the San Francisco Bay area. He has several years of experience in software development, teaching, and consulting. In addition to training and media development, Jaffe is the co-host of the radio show and podcast, Geek Speak.
Following a brief introduction to the course and to HTML 5, Jaffe explores the HTML 5's autocomplete attribute, explaining how to use the feature in HTML 5 browsers, and to plan fallbacks for older browsers.
Jaffe then explores other new form attributes, including autofocus, placeholder text, and more.
The course concludes with a chapter on input tags, going in-depth with new input types, including search, email, web addresses, phone numbers, and more.
"In this course, we will go deeper into forms," Jaffe explains. "We'll look at new input types in HTML 5 that are more mobile-friendly, and we'll see how these new input types make creating forms in HTML 5 more intuitive and more efficient."
Free demo videos and a full list of course contents can be found on the Learning HTML 5 Forms training page of the Infinite Skills website:
http://www.infiniteskills.com/training/learning-html5-forms.html
Infinite Skills offers its Learning HTML 5 Forms Training Video as a direct download from the company website at a retail price of $24.95. Though the compatibility of programs varies, all Infinite Skills titles and formats are compatible with both Mac and Windows operating systems, and shipping is available around the globe. Additionally, Infinite Skills tutorials are supported by project files which correspond to examples in the videos.
About Infinite Skills Inc.
A leader in the field of software training, Infinite Skills designs its courses on a task-oriented model, teaching complex skills by providing hands-on examples and guiding users as they carry out essential functions. Infinite Skills offers a wide range of software titles available as DVDs, digital downloads, and in iPad editions. Infinite Skills now offers a subscription service, providing access to all its training content for a monthly fee, keeping with company's aim of delivering professional training to customers anywhere they want to learn.