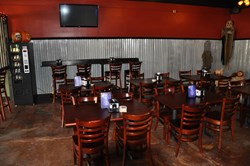 Houston, TX (PRWEB) November 19, 2013
Leading restaurant furniture manufacturer and distributor Affordable Seating recently helped Houston, TX bar Jake's Philly Steaks and Sports Bar redesign its seating, by giving it a fresh look with new restaurant furniture.
Jake's Philly Steaks and Sports Bar is a popular bar and grill located in downtown Houston near the Galleria. Last September they bought Jake's Philly Steak and Sports Bar on Chimney Rock just south of Westheimer. The renovated the interior, and expanded and adding another 1,440 sq. feet bringing the total space to 4,320 sq. feet. They just started serving breakfast taco's and serve Philly Cheesteaks, burgers, sandwiches, steaks and salads. They have a full bar with 75+ beer and wine choices.They cater for all types of events. In addition, they brought in two of the chefs and cooks from the now extinct Mama's Café to help create some of our new specialty items.
In addition to having all the games on big screen televisions, they have games such as darts and Golden Tee 2014. They also have a private room for special events. They also have live music, trivia nights and an outdoor patio with projection HDTVs.
"As a venue that brings in a wide variety of customers and experiences heavy traffic throughout the day, Jake's Philly Steaks and Sports Bar was looking for restaurant chairs, bar stools and tables that would revitalize its image," Affordable Seating sales representative David explained.
The manager of Jake's Bar and Grill, Marvin Markman turned to Affordable Seating because of their reputation for quality commercial furniture at competitive prices. He ordered Affordable Seating's classic Ladder Back Wood Chairs and matching Bar Stools in mahogany finish with black vinyl seats. To go with them he ordered 30" X 48" solid wood table tops in dark mahogany finish with bullnose edge.
The Ladder Back Chairs are made of solid wood and sell for $59 at Affordable Seating. They come in 6 standard finishes and a custom finish can be made upon request for an additional charge. Customers can choose between a padded seat which is made from American foam and vinyl or fabric or a solid wood saddle shaped seat. The padded seat can also be custom made from any material.
The matching Wood Ladder back chairs are also made of solid wood and sell for $70. They also come in 6 standard finishes and a choice of a solid wood or a padded seat. Many of Affordable Seating's chairs also have matching bar stools, which helps give the restaurant a cohesive look and a more pleasant ambiance.
The solid wood table tops Marvin bought are made in the USA. They come in 5 different finishes and a wide range of shapes and sizes. The wood is 1.5 inches thick. A thicker table top can be special made upon request. Customer can choose and eased edge or a bullnosed edge. Prices start at as low as $81.
To view Affordable Seating's full selection of restaurant chairs, bar stools, booths, tables and patio furniture, visit http://www.affordableseating.net/ or call a customer service representative at (888) 495-8884.
Jakes Philly Steaks and Sports Bar is located at 2944 Chimney Rock in Houston. For more details you can visit their website at http://www.jakesphillys.com or call them at (713) 781-1962.