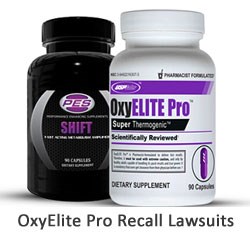 If you've suffered OxyElite liver failure, non-viral Hepatitis or other OxyElite side-effects contact Wright & Schulte LLC for a free case evaluation at 1-800-399-0795 or visit www.yourlegalhelp.com.
Columbus, OH (PRWEB) November 19, 2013
Wright & Schulte LLC has stepped up its investigation of potential OxyElite Pro recall lawsuits, following the publication of a report detailing the ordeal endured by one woman who suffered a severe liver injury following the use of the so-called "fat-burner" dietary supplement OxyElite Pro. According to the Cleveland Plain-Dealer, the 33-year-old woman is now recovering from liver damage at Cleveland's University Hospitals Case Medical Center. Prior to her admission to the hospital, she had used OxyElite Pro for several months. The doctors suspect that her use of the supplements is behind her illness, the Plain-Dealer reported.
[cleveland.com/healthfit/index.ssf/2013/11/cleveland_woman_hospitalized_w.html, November 14,2013]
According to Wright & Schulte LLC, this woman's experience is consistent with those of other OxyElite Pro users detailed in a warning recently issued by the U.S. Food & Drug Administration (FDA). In that warning, the FDA revealed that at least 56 cases of severe liver injury, liver failure and acute non-viral hepatitis had been associated with use of the OxyElite Pro dietary supplements. These cases included 22 hospitalizations, two patients who required liver transplants and one fatality.
[fda.gov/food/recallsoutbreaksemergencies/outbreaks/ucm370849.htm, FDA, November 9, 2013]
OxyElite Pro Recall Information
According to the FDA, OxyElite Pro is a dietary supplement sold as a "super thermogenic fat burner" that purportedly enhances the fat burning and muscle building benefits of working out. However, the supplements contain Aegeline, a synthesized version of a natural extract from the Bael tree. In October, the FDA issued a warning letter to USPLabs LLC, the manufacturer of the supplements, pointing out that Aegeline was a new dietary ingredient which lacks adequate information to provide reasonable assurance of safety. As such, the FDA had determined that OxyElite Pro products were adulterated, and informed the company that failure to immediately cease distribution of the dietary supplements could result in enforcement action by the agency.
[fda.gov/iceci/enforcementactions/warningletters/2013/ucm371203.htm, FDA, October 11, 2013]
For all the current OxyElite Pro recall news like us on Facebook.
Earlier this month, USPLabs issued an OxyElite Pro recall, and agreed to destroy warehouse stocks of the supplement, according to the FDA. The agency has advised anyone who used OxyElite Pro to seek medical attention if they experience possible symptoms of liver injury, including fever, fatigue, loss of appetite, nausea, vomiting, abdominal pain, dark urine, clay colored bowel movements, joint pain, yellow eyes, and jaundice.
[fda.gov/ForConsumers/ConsumerUpdates/ucm374742.htm?source=govdelivery&utm_medium=email&utm_source=govdelivery, FDA, November 18, 2013]
Wright & Schulte LLC is offering free OxyElite Pro recall lawsuit reviews to consumers who developed liver injury, liver failure, or non-viral hepatitis that may be linked to the use of this supplement. To learn more, or to arrange for a free legal consultation with an attorney at Wright & Schulte LLC, please visit yourlegalhelp.com.
About Wright & Schulte LLC
Wright & Schulte LLC, an experienced personal injury firm, is dedicated to the belief that America's legal system should work for the people. Every day, the attorneys of Wright & Schulte LLC stand up for the rights of people who have been injured or wronged and fight tirelessly to ensure that even the world's most powerful corporations take responsibility for their actions. If you're looking for a law firm that will guarantee the aggressive and personal representation you deserve, please do not hesitate to contact Wright & Schulte LLC today. Free OxyElite Pro lawsuit case evaluations are available through yourlegalhelp.com or by calling 1-800-399-0795.