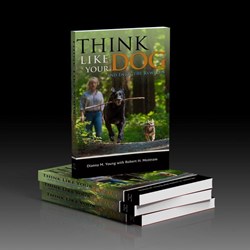 Anacortes, Washington (PRWEB) November 20, 2013
Island Book Publishing announces the release of Think Like Your Dog and Enjoy the Rewards by Dianna M. Young and Robert H. Mottram. Think Like Your Dog (ISBN: 978-0-9892008-0-6, $18.95, Trade Paper, 208 pages) is now available wherever fine books are sold. Think Like Your Dog is also available in eBook edition.
If you're like most dog owners, you've probably wondered exactly what your dog was thinking. Maybe you've even tried to decipher your dog's quizzical expression, attempted to make sense of the cocked head, the wagging tail, or the steely gaze. But what you may not know is that what your dog is thinking is the key to successfully training your dog.
In Think Like Your Dog, leading dog trainer Dianna M. Young and award-winning journalist Robert H. Mottram explain how by thinking like your dog—and by learning to speak your dog's language—dog owners can take communication to a whole new level.
Think Like Your Dog takes readers inside a dog's head and explains the processes that go on there. Moreover, Think Like Your Dog explains key principles, that when properly applied, will reward the owner with a happy, disciplined dog and fulfilling companion.
A comprehensive guide based on decades of experience, How to Think Like Your Dog addresses such topics as: choosing a canine companion, understanding the importance of socialization, learning to speak the language of dog, achieving basic, intermediate and advanced obedience training, successfully integrating a new puppy into one's life, solving problems and more.
Written in clear, concise language, and resplendent with insider insights, tried and true tips and techniques, Think Like Your Dog is peppered with real life examples and photographs. With its fresh perspective on dog training, Think Like Your Dog may well be the second best friend a dog owner could ever have.
According to Elizabeth Kerstetter, a Pennsylvania-based veterinary hospital manager, Think Like Your Dog is "a must-read for any dog owner."
Dianna M. Young began her career in Germany, studying and participating in dog training for police-service work, security, scent detection, personal protection, tracking and search-and-rescue. A portion of Young's apprenticeship involved providing trained dogs to celebrities and dignitaries worldwide. Young returned to her native Pacific Northwest and in 1997 opened Camano Island Kennels, a training and boarding facility north of Seattle. Robert H. Mottram is a lifelong animal lover and award-winning writer who spent more than forty years in daily journalism as an Associated Press correspondent, newspaper reporter, feature writer, columnist and editorial writer. The former president and chairman of the board of the Northwest Outdoor Writers Association and the author of three previously published books, Robert is a recipient of more than forty national and regional awards for reporting and writing, including two national Best of the Best awards for feature writing. For more information about Think Like Your Dog and authors Dianna M. Young and Robert H. Mottram, visit: http://www.howtothinklikeyourdog.com.
Members of the news media wishing to request additional information are kindly asked to contact Maryglenn McCombs by phone: (615) 297-9875, or by email: maryglenn(at)maryglenn(dot)com.