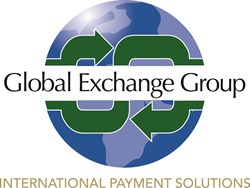 [As a Global Exchange Group customer for five years] these new improvements have been beneficial to me on a daily basis.
Merchantville, NJ (PRWEB) November 20, 2013
Global Exchange Group, a division of Cambridge Mercantile Corp (U.S.A.), the leading provider of foreign exchange, accounts payable and international payment solutions, has announced they have made several upgrades to the existing GlobalFX® Client Portal. The Global Exchange Client Portal allows customers to easily access invoices, pay vendors, process transactions and run reports. It also enables customers to link directly into their existing time and billing system, which eliminates re-keying entries; enabling a more streamlined process.
In 2012, the company launched a new and improved website. Part of the website release process was to update the client portal both branding and functionality-wise, which has been a multi-step process.
Global Exchange Group client, Renee Stephenson, Accounts Payable, at Amster Rothstein & Ebenstein LLP commented on the improved GlobalFX® client portal, "As a Global Exchange customer for five years, I have always been impressed with the way the system works. These new improvements have been beneficial to me on a daily basis. One of the enhancements, in particular, that improves invoice entry is the one screen visual. In the past, it could be cumbersome to enter information on different screens. Now I can see it all on one screen, which makes it much easier. Also, I am impressed that the system now automatically populates cost code, timekeeper numbers, client/matter numbers, etc. that are already in our Thomson Reuters EliteTM time and billing system. This, too, is a major time saver."
"Our client retention rate is about 99% which is an illustration of our commitment to customer service," said President, Sales and Marketing, Anthony Loiacono. "I believe the reason it is so high is because we continue to improve our processes; we refuse to stagnate. Global Exchange offers customers a streamlined system that links with their existing financial management system, which cuts down on wasted time and multiple data entry points. In addition, we simplify the process and offer a no-nonsense approach, which makes us a leader in the industry. We look forward to continuing that legacy for a long time."
About Global Exchange Group
Global Exchange Group is a division of Cambridge Mercantile Corp (U.S.A.). Founded in 1994, Global Exchange has become a leader in integrated and flexible international payment solutions. The company offer services for global payment processing, outsourced and managed accounts payables, and risk management and remittance. Global Exchange's rich portfolio of products minimizes the cost and risks internationally payments for professional services firms and other businesses. For more information, visit http://www.gexchange.com.
For more information, please contact:
Leah Parillo
Global Exchange Group
Phone: +1 518.681.7287
Email: lparillo(at)parilloprimemarketing(dot)com
Danielle Crowe
Cambridge Mercantile Group
Phone: +1 416.646.6401 (ext 2248)
Email: dcrowe(at)cambridgefx(dot)com