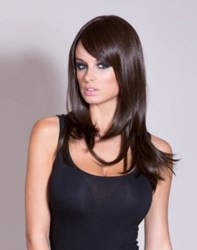 We're so excited to be launching a stunning new collection of wigs and half wigs which you can use GHD's on!
London (PRWEB UK) 25 November 2013
For the last year, leading hairpiece, extension, and wig brand, Wonderland Wigs have been designing a new unprecedented high temperature heat-resistant hair fibre. The revolutionary hair can withstand temperatures in excess of 230c, putting it in a new league and more importantly meaning that customers will be able to use almost any heated appliance on it (including all important GHD's).
Wonderland have introduced two stunning full wigs, Breeze and Verity. As well as a stunning line of heat resistant half wigs which blend seamlessly with the hair to give a full volume and luxurious look. All of which come in a full range of colours.
Sam Mcclements from Wonderland Wigs is excited to be launching this new line "We have worked tirelessly to perfect this hair. My GHD's are my most treasured and used hair appliance, and that is what inspired me to work on this new range and create this new hair fibre. I wanted to give our customers something that was truly heat resistant, and by that I don't mean the usual 130C that most 'heat resistant hair' can withstand. I wanted something that could be styled with GHD's and virtually any other appliance, a true heat resistant wig, half wig or hairpiece. So that you can create any look you want. I am so excited to of achieved that."
_____________________
The heat resistant range, and all other wigs, hairpieces, half wigs and extensions can be purchased online at http://www.WonderlandWigs.com.