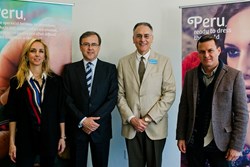 Lima, Peru (PRWEB) November 19, 2013
In a joint effort of the Peru Export and Tourism Promotion Board - PROMPERÚ and the Ministry of Foreign Trade and Tourism (MINCETUR), a delegation composed of Deputy Minister of Tourism, José Miguel Gamarra, and Peruvian designers Ani Alvarez Calderon and Sergio Davila, among talented new designers, importers and sellers of products related to the fashion industry, visited the Fashion Institute of Technology, FIT, in New York to participate in a series of meetings yesterday focused on highlighting the potential of alpaca and pima cotton as textile fibers with high added-value for apparel manufacturers and designers.
The delegation was accompanied by Peruvian students studying at FIT, one of the most prestigious institutes in the world of fashion design, which has been attended by designers like Michael Kors and Calvin Klein, among others.
Sergio Davila, Peru Brand Ambassador and promoter of alpaca and pima cotton, and Ani Alvarez Calderón, one of the country's most respected designers, accompanied the delegation and met with talented young designers who have shown interest in alpaca to develop their next collections .
This agenda is framed in a week of promotion of products to the U.S. market led by the Ministry of Foreign Trade and Tourism, which started in Lima with the Workshop for SMEs "Dare to export." These commercial technical activities are organized to commemorate the fifth anniversary of the signing of the Free Trade Agreement (FTA) with the United States, and will conclude with Peru Fashion Night to be held from 20 to 22 November in Washington DC , New York and New Jersey.
Ani Alvarez Calderon and Sergio Davila previously participated in PERU MODA, one of the most important fairs in Latin America promoted by PROMPERÚ and MINCETUR, showing the best of Peruvian exports in fashion and design to the global market.
The Fashion Institute of Technology, FIT, is a public institution that is part of the State University of New York, which offers higher education in fashion, design, fine arts, and business management related to fashion. It also has a museum of fashion accredited by the American Alliance of Museums permanent collection, which brings together about 50,000 garments and accessories from the eighteenth century to contemporary avant-garde fashion, including renowned designs of Adrian, Balenciaga, Chanel and Dior .
PROMPERÚ is the export promotion agency, tourism and country image, attached to MINCETUR. The ministry is the public body responsible for defining, directing, implementing, coordinating and monitoring the policy of foreign trade and tourism, responsible for integration and international trade negotiations.
Following the delegations visit to FIT, a lunch reception was held at Peruvian restaurant Raymi, where the dignitaries and designers were joined by prominent business leaders in the food industry including representatives from Goya and American Roland Corporation. In 2012, Peruvian food exports exceeded $42 billion.