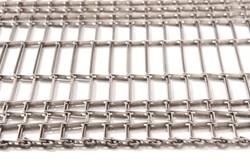 "This new technology eliminates production problems some of our food customers were experiencing by increasing belt life, decreasing downtime and improving manufacturing operations." -Larry Windsor, Director of Sales Business Development
Cambridge, Maryland (PRWEB) November 19, 2013
Cambridge Engineered Solutions, a division of Cambridge International, today unveiled DURAFLEX® EDGE, the next generation of open metal conveyor belting for poultry and food manufacturers. This patent-pending product features a revolutionary clinched edge design that has proven through rigorous testing to be the strongest and most durable belt on the market.
According to head engineer and project designer Skip Messick, "When tested against a competitor's flex‐style belt, DURAFLEX® EDGE lasted up to 39 times longer without distortion, breakage, or metal hits, making it perfect for a wide variety of food processing applications."
The revolutionary new product represents the next generation of metal conveyor belting. The clinched style edge reduces breakage and damage while nearly eliminating all potential for metal hits and product contamination. The patent-pending 'EDGE' technology bends with a true hinge in both directions, eliminating friction and metal fatigue and ensuring proper tracking.
"We worked closely with our customers to improve upon the popular DURAFLEX® belt," said Larry Windsor, Director of Sales and Business Development, adding "this new technology eliminates production problems some of our food customers were experiencing by increasing belt life, decreasing downtime and improving manufacturing operations."
DURAFLEX® EDGE leverages the beneficial characteristics of its predecessor including an easy 30-second splicing time to reduce maintenance and replacement time, and is easy to clean with increased carrying capacity and tighter transfer capability. It is the most open metal belt available that does not compromise belt strength and handles heavier loads than typical light‐duty conveyor belts.
"Cambridge has been a world leader in the metal wire industry for over 100 years because we are constantly working to improve products and processes for our customers," said Tracy Tyler, CEO. "DURAFLEX® EDGE demonstrates our team's commitment to engineering solutions that not only 'solve problems,' but help our customers' take their operations to the next level."
For more information on patent‐pending DURAFLEX® EDGE metal conveyor belting, call 1-877-649-7492 or visit http://cambridge-es.com/products/belting/duraflex-edge.
About Cambridge Engineered Solutions
Cambridge Engineered Solutions is the world's largest metal conveyor belting and wire cloth manufacturer and is built upon the foundation of understanding belts, conveyor systems, and the processes that use them. For over a century, Cambridge has developed dynamic solutions, revolutionizing industry automation and plant operations. With over 15 exclusive product lines and over 50 patents, our team of dedicated engineers and experts continually devise new methods to make lines run smoother, faster, and handle more product weight.