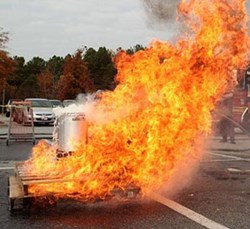 A cooking oil fire can spread quickly and can be extremely hazardous. Never douse an oil fire with water. An ABC fire extinguisher should be kept on hand...
Neptune, NJ (PRWEB) November 22, 2013
Thanksgiving has always been a time with high house fire rates. The deep fried turkey trend has increased fire safety awareness requirements substantially.
New Jersey fire and safety equipment provider All Hands Fire Equipment, a family-owned fire safety company, wants to share some important fire safety tips for Thanksgiving. With the increase in popularity of deep fried turkeys, the time of year where most kitchen fires occur (according to the National Fire Protection Association) has intensified.
Company president and founder, Donald Colarusso, a veteran firefighter with 26 years experience, spoke up about the matter: "Television programs about cooking show various techniques for cooking turkeys, including the benefits of deep fried turkeys versus the traditional roasting method. People love the quick and juicy results but there is a real danger associated with cooking in 2-5 gallons of screaming hot oil when there's a crowd around."
Here are some suggested safety guidelines to keep in mind when deep frying a turkey:
Safety Tips for Deep Frying a Turkey
1. Deep fry turkeys outdoors only in outdoor fryers that are specifically designed for this purpose. Choosing a flat area without any combustible material nearby is good practice.
2. Reading and following all manufacturer directions for frying the turkey should not be overlooked.
3. Keeping belongings, children, pets, and others away from the deep fryer is of utmost importance.
4. Using a timer and watching vigilantly to ensure the unit does not malfunction or tip over should be a priority.
5. Having the right fire safety equipment nearby in case of emergency is very important.
Choosing the Right Fire Safety Equipment for Deep frying a Turkey
"Even when following manufacturer's guidelines for deep frying a turkey, you're still taking a risk," Mr. Colarusso says, "A cooking oil fire can spread quickly and can be extremely hazardous. Never douse an oil fire with water. An ABC fire extinguisher should be kept on hand. The cook should also never leave the fryer unattended. Care and caution are vital for inserting and removing the turkey from the hot oil, as well. If you can't contain any type of small fire immediately, call the fire department right away."
All Hands Fire Equipment sells a variety of fire safety products for the home, including fire extinguishers, smoke detectors, and other fire safety products, which can be shipped worldwide. The company also sells FDNY products, fire suppression, HAZMAT products, and more. Learn more at http://www.allhandsfire.com.
About All Hands Fire Equipment
All Hands Fire Equipment was founded in 2001 by a firefighter who also served in fire inspection, fire safety training, and fire chief capacities. All Hands Fire Equipment serves NJ, NY, and the rest of the nation with a large selection of fire safety equipment, Hazmat products, technical rescue equipment, and other related items that can be shipped directly to customers anywhere. They also teach fire safety training classes.
Mailing Address:
All Hands Fire Equipment
506 Atkins Avenue
Neptune NJ 07753
Email: sales(at)allhandsfire(dot)com
Follow All Hands Fire Equipment on Facebook at http://www.facebook.com/AllHandsFire and on Twitter: at http://twitter.com/allhandsfire