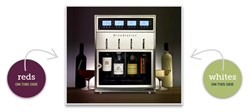 Campbell, CA (PRWEB) November 20, 2013
Napa Technology, creator of the WineStation intelligent wine dispensing and preservation system, announced today the introduction of its new WineStation DuoClimate accessory that allows operators to dispense white and red wines at ideal serving temperatures, side by side from the same four-bottle system.
Napa Technology's DuoClimate accessory creates a 12- to 15-degree differential between the two zones. This upgrade further assists Napa Technology customers – from single to multiple unit foodservice, grocery and retail locations; hotels; airports; cruise lines; and wineries – greater flexibility managing the growing consumer demand for more wine-by-the-glass choices and expanded try-before-you-buy tasting programs.
This new feature joins the line-up of aftermarket accessories designed to generate greater operational efficiencies and effective business growth tools, such as the WineStation High Volume Hybrid to dispense wine from kegs, the Wine Sales Printer to provide customers and staff with a purchase/sales record, and the ADA Module to allow lap level accessibility to the WineStation. Earlier this year Napa Technology also introduced Room Key Integration that allows hotel guests to enjoy wine with the swipe of their room key.
For more information about the features and benefits of Napa Technology's WineStation and the DuoClimate accessory go to napatechnology.com or call 800-916-3338.
About Napa Technology
Napa Technology, LLC is a designer and manufacturer of intelligent dispensing systems for wine that ensure optimum freshness and memorable guest experiences, as well as to-the-ounce accuracy with each pour. The company's breakthrough product, WineStation®, drives revenue and maximizes the profitability of each bottle. Since 2005, foodservice and retail operators have adopted WineStation as a new way to serve their customers quality wine and to expand wine-by-the-glass lists.
About WineStation®
WineStation is the world's first intelligence-based, automated, temperature-controlled wine dispensing and preservation system. The product delivers a "just opened" taste experience for up to 60 days once the bottle has been uncorked and provides product controls that maximize the profitability of each bottle.
In addition to maintaining the quality of each bottle of wine poured, the software that accompanies the WineStation allows businesses to track sales and to use that data to manage their wine inventory. Business owners can tailor their wine offerings to provide customer favorites and give customers the opportunity to discover new wines and taste wines by the glass that they wouldn't otherwise consider.