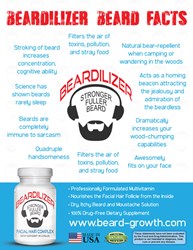 If you are going to grow a beard while waiting in line for Black Friday, make sure it looks great with Beardilizer!
Pompano Beach, Florida (PRWEB) November 21, 2013
Beard growth supplement, Beardilizer, will be preparing for the holidays early with the launch of upcoming Black Friday specials exclusively with Amazon.com. During Thanksgiving Weekend, from November 29 through December 2 also known as Cyber Monday, Beardilizer will be discounting its packages from $25.00 to $20.00.
To purchase Beardilizer, discount-seeking customers should visit Amazon.com (link: http://amzn.to/1cvFmQw) beginning November 29. The number one facial hair and beard growth complex for men contains 90 capsules, and gift-wrapping services are also optional.
These gifts are perfect in light of the national, ongoing cause supporting men's health: Movember. During this movement, men are encouraged to grow moustaches, beards, and other sorts of facial hair to draw awareness to the fact that men often overlook important symptoms and skip making crucial appointments with doctors. As a result, men average a shorter lifespan than American women, and Movember urges men to take their health seriously, listen to their bodies, and act proactively to protect themselves.
Beardilizer is 100% all natural and is drug-free, and adults take up to three capsules, three times a day, for maximum facial hair growth results. The supplement is packed with biotin, folate, thiamin, and vitamin A, C, and E; and works by nourishing the follicle of the hair for a fuller, healthier beard. All natural extracts are also combined with the vitamins and nutrients packed in each pill to reduce the itchiness and dryness that facial hair can cause during the much cooler months.
For more information, visit http://www.beard-growth.com or search "Beardilizer" at http://www.amazon.com.
About Beardilizer
Beardilizer is the Number 1 facial hair growth complex for men. The dietary supplement and multivitamin promotes fuller, healthier beards with its professionally formulated, all natural, and drug-free ingredients to target the hair follicle from the inside out.
For more information, visit http://www.beard-growth.com/.