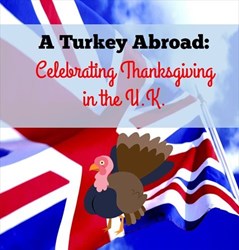 Give thanks on this Thanksgiving in London
London, United Kingdom (PRWEB UK) 19 November 2013
Thanksgiving is celebrated in the United States and Canada on the fourth Thursday of November each year. On November 28, 2013, London will host a number of Thanksgiving venues suitable for family and friends to celebrate all great things in life by way of sharing traditional festive foods. London venues choose to celebrate with the main culinary festival of the United States, such as turkey, pumpkin pie, chowder, and any other traditional American ingredients.
'There are a good number of American restaurants and bars across London. Thanksgiving can be celebrated in London during the day at any of the meal times. It can start early in the morning with a hearty breakfast before going to work, or later in the day at lunch time with a satisfying meal, and since thanksgiving is not a national holiday in the UK a great dinner at the end of the day would certainly work out well'. Said Rozi Bani-Ameri the manager at Easy Relocation.
It is perhaps best to check out the local venues that cater American style cuisine with cocktails and even a live band. But, where food is top priority then there are few places in London that cater a hearty and delicious Thanksgiving meal to suite most budgets.
Easy Relocation would recommend the following venues for good food and feel good factor on the day suitable for most budgets and close or in central London;
Big Easy on King's Road has a special menu for Thanksgiving with oven roasted turkey and stuffing accompanied with all the trimmings, including golden potatoes, green beans, lashings of gravy and cranberry sauce. The American Gulf coast crabshack interior at Big Easy, and the nightly live music will hopefully create an atmosphere of fun and joy for a Thanksgiving dinner.
Thanksgiving at Society located in the Hilton London Olympia offers a bar and restaurant with a wonderfully festive Thanksgiving menu. The menu offers a choice such as a tasty butternut squash soup with melted brie followed by roast turkey with stuffing, mashed potatoes, and cranberry sauce. And for desert a scrumptious pumpkin pie or a baked vanilla cheesecake.
Thanksgiving at Jetlag would be a combination of watching American football on big screens, live music, food and drinks with the option of winter warmers.
Thanksgiving is a popular day and therefore, it is advisable to check prices and make bookings well in advance.
At Easy Relocation we wish you a very Happy Thanksgiving.
For more information about Easy Relocation's services for your business or personal needs, visit http://www.easyrelocation.co.uk and join us on Facebook and Twitter for the latest news and tips on London relocation.
About Easy Relocation:
Established in May 2012, Easy Relocation (exclusive) offers affordable and comprehensive relocation assistance and home search to companies and individuals moving to the UK and moving to London. Unlike other UK estate agents, at Easy Relocation we hold no business commitments with third parties or letting agencies. This gives us flexibility to conduct personalized, attentive and wide ranging property searches tailored to each client's budget, needs and taste.
To learn more about our services and to see what Easy Relocation (exclusive) can do for your business, visit http://www.easyrelocation.co.uk and join us on Facebook and Twitter for the latest news and tips on London relocation.