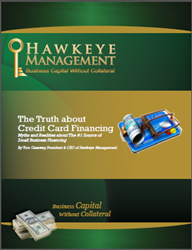 Blackwood, NJ (PRWEB) November 22, 2013
Credit card financing is a consistently popular way for small business owners to finance start-up and expansion. In fact, four out of five small business owners today use credit cards to start or grow their businesses.
The report examines a January 2012 study by the National Federation of Independent Business found that 79% of small business owners use credit cards as a source of financing. Meredith Whitney Advisory Group cited in The Wall Street Journal, 82% of small business owners say credit cards are a vital part of their overall financing strategy. A 2010 Keybridge Research study, Quantifying the Impact of Credit Cards on Small Business Growth & U.S. Job Creation, Keybridge found that each $5,613 increase in credit card use per month leads to one net new job. Here are three of the most common myths about credit card financing:
Myth No.1: Small businesses shouldn't use credit card financing
Credit card financing is typically portrayed in the media as a risky, last-ditch option for small businesses. However, credit card financing is the most common method of financing. When properly used, it can be very effective in helping small business owners grow their revenues.
Myth No.2: Other means of financing, such as Small Business Administration (SBA) loans, are more desirable
Many advisors to small business owners, such as the SBA, SBDC and SCORE, place a great emphasis on SBA loans. While SBA loans can indeed be a great solution for some small business owners, they are not suited for every business. Each year, only about 0.002% of the small business owners in the U.S.--about 50,000 entrepreneurs—get approved for SBA loans. By comparison, approximately 80% of small business owners—between 20 million and 24 million entrepreneurs--use credit card financing in an average year.
Myth No.3: If a small business must use credit card financing, the small business owner should use personal credit card so that the small business owner can enjoy the protections of the CARD Act.
Many so-called "experts" are urging small business owners to use personal credit cards for business purposes so that they can benefit from the protection offered in the CARD Act. The problem is that the law protects the few at the expense of the many. Look at what happens to a business owners credit profile when the owner uses personal credit cards. It lowers the small business owners FICO scores and it increases the owners utilization of credit. Bad move, friend.
To read the full report, click here.
Hawkeye Management connects entrepreneurs and small business owners with up to $50,000-$150,000 or more in freely spendable business credit lines. Hawkeye Management understands the mechanics and realities of small business credit better than anyone. Hawkeye Management knows what works, what doesn't work, and how small businesses can get the credit it needs as quickly as possible.