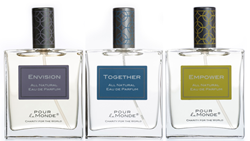 Pour le Monde's collection doesn't smell like typical natural perfumes. Our fragrances are beautiful, irresistible, prestige and guilt-free.
New York, NY (PRWEB) December 03, 2013
A fragrance company that makes scents, very good sense. Did you know that fragrance is considered one of the most toxic out of all beauty products? That's what former fashion magazine executive and fragrance addict, Wendi S. Berger learned when she was pregnant and read up on petrochemicals found in synthetic perfume. When she couldn't find chemical-free perfumes that smelled good, she conceived the idea of Pour le Monde (for the world) a collection of safe, natural perfumes free of man-made chemicals.
Created by top fragrance designers using the finest pure natural ingredients available, the Pour le Monde collection has been hailed as a breakthrough in 100% natural eau de parfum creation. "We don't smell at all foodie, earthy or spa-like as one would expect from naturals. Our fragrances are beautiful, irresistible, signature and prestige and you can wear them guilt-free," explains Berger.
Inspired by her friend living with MS, each natural scent also supports a non-profit organization and is named after the spirit of their mission, granting both fragrance wearers and charity recipients a mutual benefit. The first three (3) new fragrances in the Pour le Monde collection are:
Envision: an exotic lavender perfume featuring bursts of bergamot, pink peppercorn and Persian lime with a vanilla, patchouli and mixed woods base. Each bottle sold supports the National MS Society, whose mission is to envision a world free of MS.
Together: freesia, violet and jasmine notes delicately layered with alluring woodsy back notes make Together a classic floral fragrance benefitting the Cancer Support Community, so that no one faces cancer alone®.
Empower: an invigorating and energetic array of citrus', cassis and spearmint playfully mixed with subtle wood notes. This unisex natural perfume supports Guiding Eyes for the Blind which provides dogs that empower independent lives for the visually impaired and children with autism.
Pour le Monde natural perfumes are free of harmful chemicals such as: phthalates, petrochemicals, chemical sunscreens, synthetic fragrances and dyes. The entire collection is only one of two companies with fragrances currently certified by the prestigious Natural Products Association and are recognized by Leaping Bunny (animal cruelty free), Vegan.org, Peta Beauty without Bunnies and the Forest Stewardship Council.
1.7 fl.oz./50 ml eau de parfum spray is available for $95 at http://www.plmparfums.com with 10% of each bottle sold benefitting different charities.
Pour le Monde natural perfumes are a thoughtful holiday gift for moms and moms-to-be; healthy, eco-friendly or vegan life-stylists; the fragrance enthusiast; the charity supporter and the person who loves to do good for the world.
About Pour le Monde®
Pour le Monde®, which means "For the World", creates 100% natural perfumes certified by the Natural Products Association to benefit and increase awareness for some of the world's most important charities. Pour le Monde® works to sustain their programs, thereby amplifying the efforts of individuals and organizations striving to positively impact the world. Pour le Monde® fragrances are available online at http://www.plmparfums.com. Pour le Monde®, all natural perfumes and charity for the world.
# # #